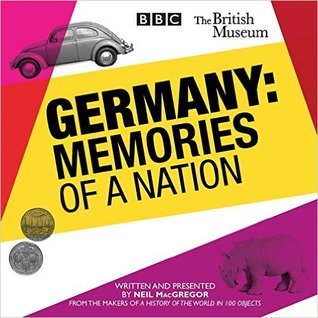 A major new series from the makers of "A History of the World in 100 Objects," exploring the fascinating and complex history of Germany from the origins of the Holy Roman Empire right up to the present day. Written and presented by Neil MacGregor, it is produced by BBC Radio 4, in partnership with the British Museum.Whilst Germany s past is too often seen through the prismA major new series from the makers of "A History of the World in 100 Objects," exploring the fascinating and complex history of Germany from the origins of the Holy Roman Empire right up to the present day. Written and presented by Neil MacGregor, it is produced by BBC Radio 4, in partnership with the British Museum.Whilst Germany s past is too often seen through the prism of the two World Wars, this series investigates a wider six hundred-year-old history of the nation through its objects. It examines the key moments that have defined Germany s past its great, world-changing achievements and its devastating tragedies and it explores the profound influence that Germany s history, culture, and inventiveness have had across Europe.The objects featured in the radio series range from large sculptures to small individual artifacts and items that are prosaic, iconic, and symbolic. Each has a story to tell and a memory to invoke."...
| | | |
| --- | --- | --- |
| Title | : | Germany: Memories of a Nation |
| Author | : | |
| Rating | : | |
| ISBN | : | 9781481506243 |
| Format Type | : | Audio CD |
| Number of Pages | : | 362 Pages |
| Status | : | Available For Download |
| Last checked | : | 21 Minutes ago! |
---
Germany: Memories of a Nation Reviews
Every moment spent reading this, was worthwhile. The thematic approach of MacGregor is highly entertaining and his lucid and witty prose is a delight to read. Instead of attempting comprehensiveness, Macgregor stitches a colorful patchwork quilt out of 30 intriguing and incisive miniature essays, illustrating masterfully Germany's complex and fraught cultural history. The book is a remarkable encomium to modern Germany and the sensible way it gets on with his troubling past, contextualizing and cross-connecting brilliantly typically German matters like sausages with highlights of German culture by idiosyncratically chosen (sometimes apparently trivial) objects, artefacts, monuments. and key figures like Luther and Goethe. MacGregor convincingly demonstrates his point that there is more to Germany than the wars and the obscene Nazi horror, without sweeping its encumbered past under the carpet.I admit my inadequate knowledge on Germany is a hotchpotch of shattered fragments and outlines, for the greater part limited to the 19th and 20th century (most of the time I was asleep at school, until our history lessons reached the 19th century). The book didn't help much to clear that perennial chaos. MacGregor is a great storyteller, but like Germany's history itself, his book does not supply a coherent framework. Given the complexity of German history however, It would not be fair or reasonable to expect that reading a single book would suffice.Obviously one could discuss MacGregor's choices, e.g. that he is treating the apexes of the German cultural heritage, music, literature (apart from Goethe) and philosophy, as a Cinderella. Whatever, what is the point of deploring the apparent omissions and grumping on the topics an author did not include in a book? Our illusive longing for the ultimate, comprehensive book that makes all other redundant? By the way, let's take another promising book on the subject, Frits Boterman's doorstopper Cultuur als macht: Cultuurgeschiedenis van Duitsland, 1800-heden which is - unlike Macgregor's - elaborately annotated (with Germanophone sources too): it largely skips music likewise (according to my partner who has just read it).Most captivating and poignant are MacGregor's observations on the profound and disconcerting self-reflectiveness of German art and literature regarding the suffering brought by the world wars and the Third Reich. The meditative work of Käthe Kollwitz mourning her fallen son, the paintings of Anselm Kiefer inspired by Paul Celan's Death Fugue, the Hovering Angel by Ernst Barlach are all immensely powerful works of art inspired by and echoing the darkest pages in Germany's history, perhaps even better than words can. MacGregor's reflections on the impact of Luther on the German language, the third official language of my country are insightful too: For 500 years, all great German writers –Goethe, Nietzsche, Brecht, Mann, - have honed their language on, and against, Luther's. Luther didn't just catch the way ordinary German people spoke, he also shaped the way they would speak. In the hands of story tellers over the following centuries, and in the pages of Goethe, Luther's German became one of the great literary languages of the world..Also the tale about the communist Bauhaus artist Franz Ehrlich and the subversive touch he smuggled into the well-known Jedem das Seine ("To each what they are due") motto he had to design for the gate into the hell of Buchenwald where he was imprisoned, is memorable and recalls the eternal questions on the problematic juxtaposition of Germany's traditional high cultural and humanistic standards, symbolized by Goethe's and Schiller's Weimar, and Nazi barbarism. This Janus-faced Germany, Germany as "Jekyll & Hyde" (Sebastian Haffner) which continues to fascinate is not really discussed thoroughly in this book, but of course there is plenty of other literature that does. I bear in mind the intricate connection Jorge Semprún, the Spanish former communist and minister of culture, revealed between Goethe and the Buchenwald horror in his autobiographical account on his internment in Buchenwald Quel beau dimanche !, intermingling fictionalized conversations with a Goethe observing the death camp with the ones noted down by Eckermann.As MacGregor implicitly traces back the origins of the derailment of German nationalism to the French and of course Napoleon, I was wondering if this is a typical British reflex (Napoleon, that villain!). Probably, Christopher Clark's Iron Kingdom: The Rise and Downfall of Prussia, 1600–1947 would be a great next read. Ruminating on my personal lengthy journey of coming closer to Germany, I cannot discern if this book, with its palpable admiration for German culture and optimistic, positive attitude towards the present country, could affect one's opinion and attitude on Germany fundamentally, or could merely reach its goal when it can reinforce some constructive seeds on the idea of Germany already present in the reader. I can imagine there still is a sense of sensitivity on all things German to some Europeans, particularly those living in the countries that were occupied, still feeling somewhat uncomfortable and ambivalent with Germany and its past nowadays, due to war memories. For me neither, it was a coup de foudre with Germany. Frankly, it took a long time to surmount my petty and immature preconceptions on German culture. At the end of primary school, I had this period of fanatically reading on the wars and the Holocaust. In my rebellious teens, apart from a fascination for the Berlin underground scene, bands like Einstürzende Neubauten and the book and film about Christiane F. ,Wir Kinder vom Bahnhof Zoo (largely inspired by friends who swore I could act as her lookalike), the idea of Germany was not very appealing – it stood for terror in the past and insipidness in the present (The heavy food. The schmalzy songs on the German television. The syrupy Christmas songs by Roy Black my mother played). Generally, I happen to fall in love with a country by reading its literature. The first "serious" German author I attempted to read at 17, was Gunter Grass, which killed my appetite for German literature for a long time. This was a false start. Getting older, I even more associated German culture with highly hermetic thinking and artistic expression, recalling getting an exhausting headache coming home from work by listening courteously to my partner who was in the mood for talking about Heidegger or playing –aargh- a Mahler Symphony while cooking (at home, mixed with all the household noises, Mahler's symphonies sound to me like a stampede by a herd of elephants - alright, I was and probably still am an ignorant philistine, at least in some respects; however, one of my philosophy professors spoke about Mahler's music as 'convoluted moaning' :-)). A second and more rewarding entrance to the country went through art, visiting Documenta in Kassel, the Sculpture Project in Münster, which is held every 10 years, and Berlin's museums. However, this artistic trip being highly internationally orientated, I could barely allege I have tasted some of the essence of Germany then. Anyway, encountering this fascinating visage of modern Germany broadened my awareness - I was very happy to get in touch with German expressionist painting. At last I came to read and greatly appreciate Mann, and postwar German literature like Sebald, Wolf, and Böll. Recently, I embarked on Döblin, Kästner and Fallada, and was enthralled. I became a Bach and Beethoven aficionada and attended some Wagner opera's, even named our daughter Senta after the heroine in The Flying Dutchman. So very slowly Germany's allure grew, essentially through literature and music. Matters can change!Praiseworthy food for thought, stimulating further reading and helpful to understand current events in Germany, like Dresden buying back a Kirchner painting seized by the Nazis as 'degenerated art', on the news only a few days ago.January 28, 2016

Years ago when yet another hour of Hitler programming chugged on to the TV screen I'd wonder if perhaps we could have a documentary on Biedermeier era furniture just to suggest that there could be something else German that might interest the wider world than just the Third Reich. MacGregor's radio series, is in a similar style as his earlier History of the World in a Hundred Objects, making objects the starting point of a wider enquiry, may be part of a tentative thawing in the British conception of Germany, one of several signs that the pendulum is swinging back towards the mid nineteenth century view of Germany as the home of positive inspiration, even if it is not given over to Biedermeier design but more generally to a series of topics from German cultural history.The radio series (view spoiler)[http://www.bbc.co.uk/podcasts/series/...(hide spoiler)] has now been decanted into book form. I'm still dubious about it as a book. At first glance each chapter looked to be a word for word transcriptions of the radio series, but looking again, there definitely has been some has been some editing. Each fifteen minute radio episode has been transformed into a correspondingly short chapter. The book is lavishly illustrated, with each of the thirty chapter given over to a different theme ranging from Bauhaus to Walhalla (view spoiler)[not to be confused with Valhalla, the home of the Norse gods, which remains closed to the visiting public (hide spoiler)] via renaissance lime wood sculpture (for the complete list see the spoiler above). I found that reading the chapters of this book, each as brief as the radio programmes, is less satisfactory than listening to them. I don't know if this is because MacGregor's language and presentation is really better suited to radio than to writing, or if I am simply more critical of the written word and accepting of speech, or if I am in a more critical state of mind at present. But why be narrow minded about it - all these things and more can be true.Some reviewers have given this book a five star rating. I think bearing in mind the breath of the selection of topics a case can be made for this. In terms of scope it would be hard to beat this as a one volume set of essays on German cultural history. At the same time the thirty topics selected are idiosyncratic, I suspected given the chapter on coins of the Holy Roman Empire that what MacGregor could lay his hands on for the exhibition at the British museum was the decisive issue. There is nothing for example on music, Goethe is the only writer to get in, while artists are better served (Durer, Kollwitz, Bauhaus, Barlach).MacGregor's book isn't a work of original scholarship - in this it reminds me very strongly of Freakonomics in which the authors essentially presented titbits from sociology journals with a bit of editorial comment. This was great in that most of us don't have access to libraries full of academic journals, but the authors' spin on the original story was not always worth while. Similarly MacGregor here, possibly in a hang over from the radio format, rounds off every chapter to a neat conclusion but these can sound trite and don't always reflect the richness of the discussion in the chapter.The bibliography tells it's own story about this book (view spoiler)[ some student practises live on, apparently even after the degree is confirmed(hide spoiler)]. All of the books listed are in English, very few of them are in translation. So MacGregor is largely basing his knowledge of Germany on Anglophone writers. The bibliographies for some chapters name two or even only one book. The snippets we are being fed, as tasty as they are, can have but a single source(or sauce) in some cases. This could be an intellectually respectable Reader's Digest that you can dip in and out of. It could pleasantly flavour a trip to Germany, or inform some other German related reading (view spoiler)[ or music listening, or theatre visiting(hide spoiler)] without ruining your appetite or consuming all your time. Maybe this is the literary equivalent of a street corner sausage and in the German context that is not necessarily a bad thing.Memories of a Nation is messy and perhaps embracing messiness is the best thing to do in a cultural history of Germany. The first problem is one of definition - what is and what is not Germany: Strassbourg, Kalingrad (Königsberg) and Prague are in this book while Vienna and Zurich are out.Also whose memories are these? A nation does not have a memory while the collective memory within a nation can be contested. There might be dominant narratives and forgotten voices. The stories we tell about ourselves change. One of the themes here is the multitude of different people's memories and impressions. Things are remembered for different reasons by different groups, or deliberately not memorialised as in the case of the refugee handcart.Implicitly the sense I get is of the diversity of memories and of acts, occasionally intentional, that create a sense of nation. These can overlap, reinforcing each other, or feed off each other - a curious example is that the nineteenth century in Germany was apparently a great age of reforestation (view spoiler)[ the other example of a re-enforcing feedback loop that slops into consciousness is beer - Tacitus wrote that the Germans drank beer, therefore drinking beer is German and Germanness can be displayed through bierhalls and tankards and brew-culture (hide spoiler)]. Fluidity extends beyond any boundaries that MacGregor tries to impose upon himself in other ways too, the relentless editing and altering that the Brothers Grimm imposed on the stories they collected - changing mothers into step-mothers and stripping out references to pregnancy as well as to pre-marital sexuality (view spoiler)[ since in the world of Victorian values no true mother desires the death of her children and despite the existence of many of us apparently life consists of only two states: chastity and wedlock(hide spoiler)] shows as much as competing Franco-German claims over Charlemagne that culture has its own boundaries that happily ignores the lines drawn on maps. Overall the book is the inverse of a mosaic. Each tiny piece is a complete and colourful picture that doesn't come together into a coherent whole, instead forming a massy blob made up of Bismarck, Luther, Bavarian beer brewing regulations and Volkswagen Beatles. In the context of British awareness of Germany this is a significant book, but Macgregor doesn't display here the skill necessary to make this a significant contribution to cultural history outside of that context.

A nation's culture molds every citizen's inward soul whether or not they agree with what it expresses. Like it or not, those various ingredients of culture also fashion a nation's outward history.Neil MacGregor, the director of the British Museum since 2002, has loaded his painter's brush from the broad palette of German culture with vivid colors from Charles the Great (Charlemagne) to Chancellor Angela Merkel, blending together an almost cubist portrait of the German soul under the title, "Germany - Memories of a Nation."Some may argue MacGregor's omissions, but he has thrown together enough eccentric pigments from literature, theatre, art, music, architecture, beer, sausages, the Gutenberg printing press to Volkswagens and and the graphic art of emergency currency notes, splashing them across a broad canvas of time, to captivate most any discerning audience.This is a breezy, informative, compelling read. Just when I thought it was going to take a wrong turn with the chapter on Bismark and devolve into an historical tract cobbled together by a rank outsider, Mr. MacGregor dragged me back inside the interior soul of Germany with the very next chapter on the artist, Käthe Kollwitz. Käthe Kollwitz is probably best known for her sculpture of two grieving parents in the military cemetery at Roggevelde, Belgian. They are separate sculptures of a mother and father kneeling in grief next to, but oblivious to, one another. Each is too consumed with their own personal agony to be aware of anyone or anything else.Her other well-known work is a Pietà located in the Neue Wache. It is the National Memorial to the Victims of War and Dictatorship. In contrast to Michaelangelo's masterpiece, Kollwitz's humble mother seems to be protecting the corpse of her dead son from any further assault by drawing it closer towards herself. I have stood before Michaelangleo's Pietà, appropriately, after the conclusion of an Easter Mass. It did not speak to me with anything near the brute force of Kollwitz's Pietà.Käthe Kollwitz was reaching deep inside her own wounded heart with this moving sculpture. Her son was too young to enlist during WWI without parental permission. Käthe pleaded with her husband until he agreed to give the boy consent to enlist. He was killed a few months later.Although I may complain about the omission of Weimar giants such as George Grosz and Otto Dix, the chapter on Käthe Kollwitz alone, is worth the price of admission. I especially recommend this book as an intellectual guidebook for any Americans making their first trip to Germany.

This wonderful book is the end result of an exhibition held in the British Museum under Neil MacGregor's directorship.The research that went into the exhibition appeared as 12 programs on BBC 4 and finally emerged in book form, which I've had to read electronically but will keep searching for a hard copy. Kindle is hopeless for this - it is richly illustrated in colour and poor little kindle doesn't cope with that. But the kindle app on iPad meant I could at least see the images properly, and this is essential as the book's origins lay in an exhibition. How I wish I could have seen it.MacGregor explains that 'the exhibition set out to look at Germany's challenging history from the standpoint of the new Germany created after the fall of the Berlin Walll'. It starts out with a discussion of memorials and memories, has many fascinating chapters on arts (exemplified by eg Goethe, Durer), crafts and technology (printing, porcelain, metal work, industrial processes) and intelligently manages the political shifts and emerging nationalism of the nineteenth century to the much more familiar horrors of mid twentieth century political brutalities. Again to quote MacGregor, 'One of the central arguments of this book has been that history in Germany is concerned not only with the past but, unlike other European countries, looks forward'. So it ends with discussion of two artworks which reflect on the past and the future - Paul Klee's 'Angelus Novus' and an enigmatic portrait by Gerhard Richter of his daughter Betty.Thank you Karen for recommending it.

Zu Ende gelesen kann man kaum sagen, denn dieses Buch erobert man sich blätternd: So groß ist die Fülle der Reproduktionen. Und so blättere ich schon seit Tagen hier ein bisschen, da ein wenig und lese mich gelgentlich fest. In ganz leicht zu lesendem Plauderton entwickelt sich zwischen diesen ganzen Dokumenten, Fotos, Gemälden und Skizzen eine Geschichte der Deutschen, deren Reiz auch darin besteht, dass ein Blick von außen darauf geworfen wird. Wer kann als Deutscher schon die roten Linien, die entscheidenden Punkte benennen, bei all dem von Kindesbeinen angehäuften Wissen, Halbwissen und den immer reichlich vorhandenen weißen Flecken über die Geschichte der eigenen Nation? Beziehungsweise fehlt bei dem reichlichen Faktenwissen die Struktur oder der Abstand um die Besonderheiten zu erkennen. Da vertraut man sich gerne dem britischen Kunsthistoriker und Deutschlandkenner Neil MacGregor an, der mit fachmännischem Blick diese Geschichte ordnet. Gerade dieser Blick von außen interessiert mich und diese Perspektive spiegelt sich auch im Titel der Ausstellung wider, so wie sie jetzt in Berlin zu sehen ist ("Der Britische Blick"; gezeigt wurde sie zunächst im British Museum in London) – und heute habe ich mir die Ausstellung angeschaut. Und ich tendiere dazu, das Buch mehr zu mögen.Aber erst das Positive: Auch wenn mir die Ausstellung etwas altbacken erschien (keine mediale Überinszenierung, keine Verwandlung der Räume in Kulissen – was ich entspannend finde; aber auch keine wirklichen Alltagsgegenstände, sondern Gemälde und Objekte in Glaskästen), so werden die Verbindungen verschiedener Aspekte deutlich: Unter dem Stichpunkt Befreiung erscheinen sowohl Luther als auch Napoleon. Unter dem Stichwort "Weimar und das Bauhaus" sieht man erst einmal wenig Bauhaus, aber eine riesige Reproduktion eines bekannten Goethe-Porträts. Es gibt viele Verknüpfungen über Zeiten hinweg und die machen die Ausstellung spannend.(Eine weitere Verbindung, die sich dem Besucher hier aufdrängt: Die Ausstellung findet im Martin-Gropius-Bau statt, einem Gebäude, das also der Großonkel von Walter Gropius (dem Bauhaus-Gründer) erbaute.)Auch der Einstieg war interessant: Um erst einmal ganz früh anzufangen und die Schwierigkeit zu illustrieren, was zu einem bestimmten Zeitpunkt deutsch war, werden im ersten Ausstellungsraum in früherer Zeit "deutsche" Städte vorgestellt: Königsberg (aus dem Käthe Kollwitz stammte), Prag (Kafka), Breslau, Strasbourg, Basel. Einem deutschen Kurator/Historiker hätte das Feuilleton das vielleicht übelgenommen, bei einem Briten ist das völlig unverdächtig.Aber die Schwierigkeit besteht wohl doch darin, anhand nur weniger Objekte (also deutlich weniger als die im Buch vorgestellten) eine Geschichte zu erzählen. Schmerzlich vermisst habe ich beispielsweise die Rolle der Grimmschen Märchen. Da wird zwar in dem Raum, der vage der Findung einer nationalen Identität während der Romantik gewidmet ist, ein Exemplar der Hausmärchen ausgestellt – aber ohne Herstellung des Kontextes (allerdings habe ich auf den Audioguide verzichtet, vielleicht war das ein Fehler). Aber ich bezweifle, dass ein Audioguide die Verbindungen, die MacGregor in dem Kapitel "Schneewittchen gegen Napoleon" herstellt, auch nur im geringsten auffangen würde. Die Assoziationskette reicht über nationales Selbstbewusstsein vs. napoleonische Herrschaft, Märchen, Wald, Teutoburger Wald, Arminius, Landschaft bei Caspar David Friedrich, Eiche, Eichblatt auf deutschen Münzen...Fazit: Die Ausstellung ist durchaus sehenswert, aber das Buch dagegen sollte man unbedingt zum Schmökern und Nachlesen besitzen!

A fascinating view on German history from a British point of view. McGregor's focus on items as touchstones for his narrative is priceless - even though the facts were mostly known to me, he managed to shed an entirely new light on events, suggesting connections that I would have never seen. A brilliant read. Some of the first chapters did read a little too positive at first, at least to me. But then again, I am German, raised in Germany, and trained to see our history in rather negative terms. Now that I have read the whole book and set it aside for a few days, I think McGregor did right to remind us (me) of the good things that happened here. How else could he possibly create a balanced image overall when he had to include the crimes of the Nazi Regime?So even if I do not agree with all his points and sometimes rather far-fetched connections, it was a truly thought-provoking, enriching and on top of all that a surprisingly pleasant read.

Reading a chapter for breakfast each day- morning treat! Hurrah for Neil McGregor. He enlightened me so many times by now with his books, made me see familiar things through a different lense... First world history, next Shakespeare now my home country. His thought make me so much more aware of the thoughts/ beliefs/ associations I grew up with. Thought provoking and inspiring as always- though I may differ on his thoughts about Faust:)

From BBC Radio 4:Neil MacGregor, Director of the British Museum, begins his series examining 600 years of German history through objects, with a reflection on Germany's floating frontiers.Even if this series will continue I won't be able to follow it in the next weeks.

At times a bit dry, but still wonderful.

Excellent and entertaining read. Learned a lot both about German history, politics past and present, culture and art. Most of which I should have learned at school in the 70s and 80s. However, as I born in 1966, history lessons at that stage was all about German guilt with regard to the 1st and 2nd world war. This book actually deals with this as well in a really excellent way. Know now why I had to go to England to learn about the great Germans!

A fascinating and engrossing view on the history of my fatherland from an "outsider". Very readable; recommended for history buffs as well as art lovers. Full review to follow…

There is a lot of talk about the 'cultural turn' in history, and about how we might come to a different understanding of the past if we become least logocentric, if we spent less attention to words and more to images and objects. This book is probably the best example of this that you could wish to meet. It doesn't set out to be a narrative history, instead it picks 30 or so themes each of which illuminates critical things about Germany and its past. The book is extensively illustrated, and the images and words work in perfect harmony: the pictures aren't just there to illustrate the words, and the words don't just explain the images. Each is adding something the other can't. Subjects discussed range from Kant to Kafka, and include the Hanseatic league, sausages and the ethnic cleansing of Germans from Eastern Europe at the end of the second world war. Images discussed include Druer etchings, VW Beetles, objects for drinking beer from and the Buchenwald gates. Any book on German history has a singular challenge: how is it going to deal with the Holocaust? The danger is that you interpret the whole of German history as tending towards this event, or you don't say enough about it. This book may be in the latter category, but what is does offer is unfamiliar.

Or a history of Germany in 25 objects. Follows the same formula as the authors history of the world. But this one is more lavishly illustrated indeed tis is a thing of rare beauty. Terribly interesting topic for one such as I who studied German history for A level. Some lesser known facts emerge - that it was mostly women who literally rebuilt Germany after the Allies had reduced it to rubble. After the German men had fucked things up. Fascinating comparison between the German attitude to Europe which apparently derives from their familiarity with the Holy Roman Empire. Contrast that with the narrow mindedness that currently seeks to isolate the UK. It was poignant that I finished this book in the same week that saw the death of Gunter Grass. Yet sadly he doesn't feature despite being their most relevant post war writer. One is left with the feeling that the Germans are determined not to repeat the past. It's surely no accident that they are among the most Eco friendly nations. Yes they were monsters back then but having met many of today's Germans i concur with many of the authors conclusions. I dedicate this review to them : to Sonja Kristina Ralf Thomas Felix Suzanne Nathalie and the other young Germans I met and liked. The future belongs to them.

This is an excellent and very readable account of Germany and the German people, their history, culture and economic life and times. It is in short easily read chapters which for me are models of how to cover complex issues without either condescending to the reader or simplifying the topic to the point of banality. It is a book that i will come back to to check my memory and to re-read for the pleasure of finding something new.

An immensely powerful book where the author uses art to illustrate themes in a personal history of Germany. It is a wonderful way of leading the reader through a complex and tragic journey.

A high quality colour picture of an amber tankard in the collection of the British Museum is the start of a lesson about a city long lost for Germany but an essential part of the nation's memory: Königsberg (now Kaliningrad). The tankard was made in the 17th century in Königsberg from amber collected on the Baltic shores. Amber as a local industry, amber as a diplomatic gift, the amber room in the Romanov Palace outside St. Petersburg, ... The ornate drinking cup brings the reader Frederick I, the first King in Prussia, takes him to Kaliningrad Cathedral, lets him say a quick hello to Immanuel Kant, while standing on iron font sewer manhole covers with German inscriptions from 1937 in a city that is now entirely Russian.This is one of about thirty "stories" about different people, buildings, events, artefacts, images, traditions that are supposed to make up the memory of the "German nation". Bauhaus, Goethe, Luther, sausages, the Walhalla outside Regensburg, hyperinflation, Volkswagen, Dürer, Kollwitz, the crown of Charlemagne, to name just a few of the topics that serve as a starting point to tell some of Germany's history. Some cover only short periods of time, others span many centuries. The book does not have a chronological structure at all (the topics are grouped thematically), but nevertheless by the end of the book you have a good mental overview of the timelines in German history. MacGregor is a great story teller and not only provides us with plenty of historical information but also explains how each of the selected topics still resonates in the collective German psyche of today. The book is beautifully illustrated and contains many images that are "iconic" for Germans (and many times also for Europeans- and in some cases for a global audience).No matter whether you know a lot or very little about Germany, one will always find things that are ravishing. For me the best reading experience of the year.

WWII being such a momentous event it can often suck out the intellectual oxygen when it comes to countries like Germany. The horror of the twelve year reign of Nazis is indeed large and not to be forgotten however Germany has over a thousand years of history and culture and it is good to know about some of highs in their culture as well the lows. Goethe, Martin Luther, Bauhaus, Gutenberg, Thomas Kempis, Heisenberg, Schroedinger and Bach are names to remember when one thinks of Germany. Perhaps the shadow of Hitler will forever follow historians when they think of Germany but remember a few of the candles existed here as well.

I liked the art history lens on German history that the author uses, highlighting paintings, artifacts, sculptures, and architectural landmarks that are emblematic of moments in Germany's history. I especially enjoyed the discussions of Gutenberg and the printing press, Dürer as artist and expert businessman, and Käthe Kollwitz on the horror and pointlessness of war.

4.25 starsFor some reason, 2017 has stoked a non-fiction fire in me and a desire to learn more about my own country. So, of course I read a book about Germany published by a Brit? I say, yes of course. Getting to see my own country through the eyes of another country is always interesting and Neil MacGregor does so with admiration and care. This book was entertaining to read and enlightening. Of course I learned a lot about the pillars of German history in school but while we covered some parts multiple times back then *cough* WW2 *cough*, we never got to some other. And frankly, some simple parts surprised me. For example the role Martin Luther played in the creation of my native language back in the 16th century. Or the reason Germans are such fighters for non-surveillance of its citizens. Not only was our population spied upon by the Nazis but also later in the GDR the Stasi was a huge apparatus and we still remember. The book featured a couple of moments like that for me. My interest in the chapters varied due to their subject but I did learn a lot, especially about the culture and arts. I do believe this is a great book and one that many people should read because it's a nice chronic of why we need to remember. Among other things, it details the way Germany was shaped throughout the centuries even before there was a Germany in the shape and form we know now. The decent from the WW1 into WW2 is not laid out as a "how could you?" towards the then German population but an explanation of how such things progress. There's not one single step that catapulted us into Nazi Germany, it was an accumulation of many small things that may seem insignificant when viewed alone but put together means one of the greatest tragedies in history. And maybe that is why I crave these books right now, because I see what is happening in the US after Trump became President. And every day I feel closer to the Weimar Republic. The US isn't the only country that's moving more to the political right, we see that in most of Europe and it scares me. Is 70 years the remembrance barrier? Anyway, I strayed from this review. This is a fantastic look at Germany through politics, arts and every day objects and it's a great place to start if you want to learn more about this country. It's easy and pleasant to read and features lots of pictures of all it discusses. However it jumps around a lot in time which is why it doesn't get 5 stars. Or among the reasons.

Excellent reuse of the concept from the authors History of the World in a 100 Objects. Provides a convincing exploration of what Germany and German meant and means and the associated implications. Perhaps a wee bit overly repetitious (Königsberg, Luther, Goethe etc.) but certainly an easy flowing read and an excellent appetiser for travel and further study

It's been a while since I read such really rather dry subject matter with this much enjoyment. It kept me busy for a long time.As with the exhibit, I enjoyed the view from the outside, it focused on some things that never would have occurred to me otherwise. And despite covering specific angles of German history, it was quite comprehensive and included things I really didn't know much about. History classes in school seemed to go back and forth between Romans/Greeks, French Revolution and Third Reich. I'm sure my memory is failing me. I'm also left with things I want to go see.Anyway, very good read. I felt really smart after finishing it yesterday, at least until at the bakery I almost complained about being overcharged only to find out that I apparently can't divide 3,30 by 2. So, there's that.

MacGregor swiftly browses through the history of Germany using objects, buildings, food -anything man-made- as stepping stones. This is as objective, as unprejudiced and as insightful as it gets.

MacGregor, Neil. Germany: Memories of a Nation, Alfred A. Knopf, New York, 2015 (606pp., 420 illustrations, 8 full-color maps, $40).Neil MacGregor is director of the illustrious British Museum on Russell Square in London. Previously the director of the National Gallery, his books "The History of the World in 100 Objects" and "Shakespeare's Restless World" have been widely translated and admired. His latest book, "Germany: Memories of a Nation" was first conceived as a temporary exhibition to be presented by the British Museum during early 2015 in partnership with BBC Radio which provided travel funds, documentary assistance, and script production services. The partnership resulted in an admirable radio series, the British Museum exhibition, and now a massive and beautifully rendered volume full of intelligent observation, art prints, documentary photographs and maps.The central argument of the book is that "history in Germany is concerned not only with the past but, unlike other European countries, looks forward." This thesis, while not readily understandable standing alone, makes sense when one understands that German history over the past five hundred years has been uniquely unstable, almost a "project" in the making. After the fall of the Roman Empire, King Charles (Charlemagne) struggled to create a healthy state on the ruins of the feudal economic system, a state that finally encompassed nearly all of what are now eastern France, Switzerland, northern Italy, and much of Germany just east of the Rhine and north of the Danube. By the late Middle Ages, this territory came to be known as the Holy Roman Empire, a collection of principalities, duchies, Kingdoms and prelate-prince estates, held together mainly by the fact that its inhabitants spoke either Low or High German, and were mostly Catholics. Its Holy Roman Emperor was beholden to "electors" rather than inheriting his position by birth."Germany: Memories of a Nation" is much more than popular history for the coffee table. Proceeding in relatively short chapters that are lavishly illustrated, a layered and nuanced argument is advanced that Germany congealed through the use of a common language and shared troubles; that Germany's history is particularly diffuse, but that, with patience, common threads emerge that all Germans intuitively understand. One must remember that the Germany (in its 17th century incarnation) included Konigsberg (now Kaliningrad in the Russian Federation) and Strasbourg (now in France). Digging deep, the series promoters uncover subtle connections between such far-flung subjects as Goethe, the rise of the Hohenzollerns, Charlemagne, sausage and beer, Meissen porcelain, Hansel and Gretel, metalwork (in particular, the Volkswagen), popular uprisings, peasant revolts, Thomas Mann and Emmanuel Kant, Konigsberg, Strasbourg, Dresden and the Brandenburg Gate, the Thirty Years War, Buchenwald, and many other topics like art (Kandinsky and Kollwitz), literature (Kafka and Mann) and music (Mahler and Wagner, of course). Strangely absent though is any reference to Alexander von Humboldt!"Germany: Memories of a Nation" is an astonishing work of book art too. Four-color prints, unique drawings, and historical portraits plentifully adorn every chapter. Printed on quality paper, with a generous index and bibliography, the book astounds the eye and mind. A bit heavy in the hand, it might have been better in a larger format. Even so, for a "series" product, it is a treasure.

Absoluut lezen dit boek als je meer wilt weten (en begrijpen) van de Duitse geschiedenis, de houding van Duitsland in Europa en de Duitse 'ziel'. Het boek heeft een originele invalshoek door aan de hand van kunstvoorwerpen of culturele erfenissen/ kenmerken de geschiedenis van Duitsland te beschrijven. Van etsen tot Bier & Bratwurst en van Goethe tot de auto-industrie. Het is zo'n boek waarvan je wilt dat alle geschiedenis zo geschreven is: heel makkelijk leesbaar, veel afbeeldingen en veel voorbeelden aan de hand van kleine verhalen en voorwerpen. En ja, natuurlijk is de geschiedenis niet compleet en is het een keuze uit de vele verhalen die er zijn. Toch vind ik het een prima geslaagde poging de geschiedenis en de volksaard van Duitsers te beschrijven.

Today's post is on Germany: Memories of a Nation by Neil MacGregor. It is 606 pages long and is published by Alfred A. Knopf. The cover is white with the German flag on it. There is no language, no sex, and no violence in this book. The intended reader is someone who is interested in history. There Be Spoilers Ahead.From the dust jacket- For the past 140 years, Germany has been the central power in continental europe. Twenty-five years ago a new German state came into being. How much do we really understand this new Germany, and how do its people understand themselves?Neil MacGregor argues that, uniquely for any European country, no coherent, overarching narrative of Germany's history can be constructed, for in Germany both geography and history have always been unstable. Its frontiers have constantly shifted. Königsberg, home to the greatest German philosopher, Immanuel Kant, is now Kaliningrad, Russia; Strasbourg, in whose cathedral Wolfgang von Geothe, Germany's greatest writer, discovered the distinctiveness of his country's art and history, now lies within the borders of France. For most of the five hundred years covered by this book Germany has been composed of many separate political units, each with a distinct history. And any comfortable national story Germans might have told themselves before 1914 was destroyed by the events of the following thirty years.German history may be inherently fragmented, but it contains a large number of widely shared memories, awarenesses, and experiences; examining some of these is the purpose of this book. MacGregor chooses objects and ideas, people and places that still resonate in the new Germany—porcelain from Dresden and rubble from its ruins, Bauhaus design and the German sausage, the crown of Charlemagne and the gates of Buchenwald—to show us something of its collective imagination. There has never been a book about Germany quite like it.Review- Another wonderful book from MacGregor. He goes from Germany's beginnings as many small princedoms to one great nation today. Like all MacGregor's other books he traces the history in objects from paintings to statues and many flags. He looks at the history of such diverse people, as Germany has, with great care and compassion. He does not excuse any actions but he helps the reader to remember that the people of Germany are human too. He discusses what made Germany from Luther making one German language to the women who rebuilt it after the Second World War. MacGregor's prose, as always, is easy to read and the reader gets pulled into the narrative of a nation.I give this book a Five out of Five stars. I get nothing for my review and I borrowed this book from my local library.

Indrukwekkend, zeer leesbaar, boeiend boek waarin MacGregor aan de hand van voorwerpen, gebouwen, monumenten en kunstuitingen een helder licht werpt op de vorming van het huidige Duitsland. Ook vertelt het over De Muur, de Worst, het unieke meester-leerlingstelsel, de taal, de lapendeken van landjes en staten die het was/is, het geloof, grote Duitsers enz. De geschiedenis van Duitsland is onvergelijkbaar met die van andere grote naties als Frankrijk, Engeland of de USA, of zelfs Nederland, waar de geschiedenis vooral verteld over een groots verleden die naar hun huidige plaats in de wereld verwijst (al dan niet terecht). Nadat Bismarck in 1871 de vele staten waaruit Duitsland tot dan had bestaan tot een geheel had verenigd en van zijn land de voornaamste industriële en economische macht van Europa had gemaakt, had Duitsland misschien tot een soortgelijke nationale mythe kunnen komen. Maar de nederlaag in de eerste wereldoorlog, de ineenstorting van de Weimarrepubliek en de verbijsterende moordzucht van het Derde Rijk leidt tot schaamte en schuldgevoel en een totaal beschadigde geschiedenis waarvan herstel niet mogelijk is en die ook niet ontkent noch genegeerd kan worden. Deze onvoorstelbare gebeurtenissen hebben een samenhangend verhaal, onmogelijk gemaakt. In Duitsland verwijst de geschiedenis dan ook niet alleen naar het verleden maar juist ook vooruit, naar de toekomst, een toekomst die anders moet zijn. Het verklaart voor een deel ook de actieve en praktische gidsrol die het land en zijn bevolking inneemt in de huidige vluchtelingencrisis. Anderzijds, en dat is nogal onderbelicht in dit boek, zijn racistische en rechts-radicale geweldsincidenten al jaren m.n. in de voormalige DDR aan de orde van de dag en krijgen in heel Duitsland de populisten met onverholen ausländerhass steeds meer voet aan de grond. (net als in vrijwel alle Europese landen).Dit boek verschaft inzicht in de pogingen van het moderne Duitsland om in het reine te komen met zijn historische erfenis en in het heden en voor de toekomst verantwoordelijkheid te nemen om de geschiedenis zich niet te laten herhalen. Meer nog laat het op overtuigende wijze zien, in uiterst boeiende en rijk geïllustreerde beschouwingen, tot welke grote intellectuele en culturele prestaties het Duitsland van m.n de 18e en de 19e eeuw in staat was en hoe verbluffend het land ook telkens weer uit zijn as herrees.

I have taken my time to read this encylopaedic-like tome by Neil MacGregor, recently retired director of the British Museum, who based this book on his BBC Radio 4 show and accompanying exhibition at the British Museum. The premise will be familiar to those who have enjoyed recent books exploring history through a discrete set of objects. (In fact, the MacGregor and the British Museum started the trend with A History of the World in 100 Objects.) Each chapter uses one object as a starting-point, and because this coincided with a BM exhibition, that item is usually held by the BM; however, the conversation leads to other objects held in Germany and elsewhere. The radio program featured input from experts at other institutions, and even reading the text, you feel as though you are part of a conversation. The objects range from paintings by Holbein that one only sees in museums to lowly Notgeld which can be purchased by anyone for a couple dollars. The crown of Charlemagne. Volkswagen bugs. Currywurst. I was surprised he did not comment on the photo of Soviet soldiers placing their flag atop the Reichstag as being staged, but the focus of the chapter was the Reichstag building. Given his scope, I'm sure he had to rein himself in many times. I finished this on the subway this morning--thank goodness I got a seat because I couldn't have held it open in one hand--and immediately flipped back to the beginning to read the opening again. MacGregor brought it full circle. I like that he called his final pages "envoi." I feel sent out to study and learn more. I have a list of authors, places, artworks, etc. to explore.I saw that MacGregor recently retired from the BM and has taken up a position as a consultant for the Humboldt Forum in Berlin. I did not pay when there last summer in order to see what the plans for Museuminsel are; I'll save my money for actual museums. It seems strange that a British man would be chosen to reinvision such an important part of Berlin. I noticed that the architects of the Reichstag and Neues Museum were both British. I approve what they've done, but I wonder what the average Berliner thinks. MacGregor's book is everything and more that I'd hoped for in Simon Winder's book. We'll see how Peter Watson's The German Genius stacks up. (But I may take a break for a few months.)

A fascinating survey of German history, using various objets d'art as springboards from which to contemplate, condemn, and celebrate the oft-changing identity of this influential country. I learned something new on almost every page.

Germany: Memories of a Nation is one of the finest works of non-fiction that I've ever read.Neil MacGregor, Director of the British Museum, traces the history of Germany from Charlemagne to German Re-Unification in 1989. He uses objects; a painting, sculpture, a piece of machinery, a musical score, a building or people, Bismarck eg or incidents like the post 1945 redrawing of Germany's borders and the consequent refugee crisis, to tell the story of the German people, united by language but who didn't become a single unity until 1871.You are still left wondering how such a brilliant race who have contributed so much to the cultural, political, economic, sporting and scientific history of the planet, allowed themselves to be led down a twelve year path of evil between 1933 and 1945.The book is available in hardback and as an E book as well as an audio tape. The BBC 4 series Germany Memories of a Nation can be down loaded as a series of thirty podcasts.Sadly the superb exhibition at the British Museum has now finished but I was fortunate to see it. Germany; Memories of a Nation, is a very readable, wonderfully illustrated masterpiece.David Lowther. Author of The Blue Pencil (thebluepencil.co.uk)

This a very interesting, very compelling narrative of German history, which is written in conjunction with the British Museum's exhibition on Germany. Not your conventional history, which states chronologically in a fact-by-fact manner the history of the nation, but one which uses people, objects, events and places to paint the history of a nation. These are the memories that shape Germany today, and they are fascinating. It was thoroughly enjoying. But what I liked most was that it detailed aspects of German history that are so unknown to us non-Germans. German history, especially to Brits, seems to encompass the founding of the German Empire in 1871, the Weimar Republic, the Third Reich and the Second World War. MacGregor does not get hung up on this. He gives us so much more, and shows us a Germany rich in culture and ingenuity, in steadfastness and reinvention. This really is a brilliant read, proudly my first of this year, and one I would highly recommend.