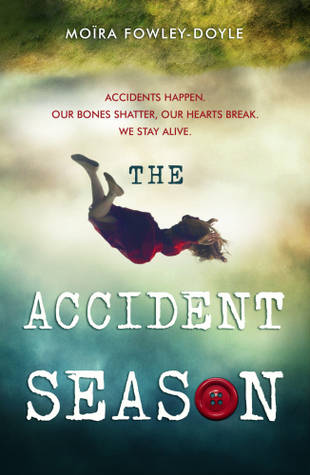 A bewitching, dark and beautiful debut novel about a girl living in the shadow of a mysterious curse.It's the accident season, the same time every year. Bones break, skin tears, bruises bloom.The accident season has been part of seventeen-year-old Cara's life for as long as she can remember. Towards the end of October, foreshadowed by the deaths of many relatives before thA bewitching, dark and beautiful debut novel about a girl living in the shadow of a mysterious curse.It's the accident season, the same time every year. Bones break, skin tears, bruises bloom.The accident season has been part of seventeen-year-old Cara's life for as long as she can remember. Towards the end of October, foreshadowed by the deaths of many relatives before them, Cara's family becomes inexplicably accident-prone. They banish knives to locked drawers, cover sharp table edges with padding, switch off electrical items - but injuries follow wherever they go, and the accident season becomes an ever-growing obsession and fear.But why are they so cursed? And how can they break free?...
| | | |
| --- | --- | --- |
| Title | : | The Accident Season |
| Author | : | |
| Rating | : | |
| ISBN | : | 9780552571302 |
| Format Type | : | Paperback |
| Number of Pages | : | 282 Pages |
| Status | : | Available For Download |
| Last checked | : | 21 Minutes ago! |
---
The Accident Season Reviews
(3.5)Despite the low rating, I want to say that this book was great! It had an addictive quality to it, it was rather hard to put down at times. I just found the twist to be rather predictable and I also DESPISED the weird relationships between the characters. Overall the writing was great and this is definitely the perfect book to pick up in the month of October(as it takes place in October).

This book is for a very specific type of reader. A reader who likes lots of weird imagery and strange writing. Possibly those drawn to the books of Nova Ren Suma. And those who enjoy not knowing what the hell is going on or what is even actually happening until the last few chapters of the book. I am not that type of reader.The Accident Season is a little like We Were Liars and Charm & Strange, but far more boring. I was warned about the weird writing style and it didn't bother me so much, but it could not make up for the complete lack of plot (i.e. random weirdness) for 90% of the book.It will be obvious to most readers that a twist/reveal is coming. It must be, right? Because what else could account for all this build and no action? So, when it happened, I thought "Oh, there it is" and really wasn't surprised. It's the kind of book where it's a little too obvious that the author is trying to be clever, so I was waiting for the cleverness to announce itself. Weird magical realism books covering up a realistic issue aren't that different anymore.The story is about a girl called Cara and her family. In October, her family become inexplicably accident prone. They hide sharp objects, stay inside, and try to avoid catastrophe in any way possible. The book opens with Cara noticing that a girl called Elsie is in all her pictures - maybe just a few strands of hair or a shadow in the background, but she is in every single one. Weird, huh?But the next 250 pages get weirder and weirder, offering no explanation until the very end of the book. This might sound compelling, but honestly it wasn't. It was just strange and boring. We start to hear about witches and mermaids and none of it makes a damn bit of sense for a long time.Also, ick:"Every time I want to kiss you, I tell myself you're my little sister and I shouldn't want that because it's fucked-up and wrong."The anger in his quiet voice surprises me. "Does it work?"Sam looks right into my eyes like he's testing himself. "No."Like this book wasn't weird enough...Blog | Facebook | Twitter | Instagram | Youtube | Pinterest

"I am afraid that I have no secretsThen I backspace and I typeI am afraid of my secretsThen I backspace again and writeI am afraid of everybody else's secrets"The Accident Season was a book with that gorgeous cover I'd seen around lots of times. I read the blurb, got a little curious, added it to my tbr shelf but still got no intention of picking up anytime soon. But now that I had finished it, I couldn't believe I almost pass this up entirely! I blew through this in just one day! This book was an extremely well-written YA comtemporary with paranormal elements.It was eerie and a bit haunting and a lot of sad.These characters have been living with guilt and shame and suspicion and fear almost their entire lives. How incredibly sad is that? If only people opened up. If only there were not so many secrets in their world...

Wow, what an entrancing and surprising read.

THIS STORY IS SO WILDLY MARVELLOUS. You know those kind of stories that just glue themselves to your soul? And you just keep turning pages thinking, "omg was this made for me?" WELL. I JUST FOUND MINE. I can't possibly love The Accident Season more. Omg. It reminded me of The Darkest Part of the Forest and The Raven Boys, which are two of my most favourite books EVER. It's just so full of that deliciously visual writing and it blurs the lines of reality and contemporary and the characters are all so REAL and fleshed out. Like, literally, I'm gasping like a dried fish here. IT IS SO ASTOUNDINGLY BEAUTIFUL. Ahem. So let me talk about the characters. Ajfksdla where do I even start? It's mainly about 4 teens. Cara (the narrator) and her sister Alice and her stepbrother Sam. They are the most adorable sibling(ish) trio of ever. They're close. They love each other. They indulge each other's fantasies and are THERE for each other. They're all a bit wild, like they swallowed a teaspoon of magic when they were born. AND THEY ALL HAVE HUGE PROBLEMS. They are adorable. I love them. And then there's Bea, the fourth part of their group, who is Cara's BFF. She's like a quirky eclectic tarot-card reader, who's sort of ignored at home, so she's adopted into Sam, Cara, and Alice's circle. I love their friendship, particularly how strong it is, and how they grow and change and struggle...but they don't LOSE who this closeness. YAY JUST YAY YAY YAY. I'm so tired of books where friends break up and move on. I just love when they stick together. Also SAM IS JUST THE MOST ADORABLE THING IN THE WORLD. He reminded me of Sam from Shiver, actually. Minus the paper cranes and the tendency to turn into a wolf. (Small details.)Then the writing. OMG THE WRITING. It totally just was beautiful, although I do admit I got lost a bit: particularly toward the end. Sometimes it floated so much between reality and air that I just got lost in the blurred lines. BUT BAH. That doesn't stop me from appreciating the beautifulness. I think Bea could set up her own secrets booth, sell all the unsaid things for ten cents a pound. How many secrets would fit into a pound? I wonder.I was absolutely hooked in and just the visuals. THE VISUALS. The writing was like an ice cream that does a party in your mouth and in your brain. MY ENTIRE BRAIN LOVED THIS BOOK, OKAY???Also the premise was just delicious. It's a little bit contemporary, a little bit magical, a little big ghosts, and a little bit creepy. Once a month every year, Cara's family have this "accident season". Just where EVERYTHING goes wrong. People even die. It's just about their family though, so Bea isn't affected. But they totally just have to avoid open fires and walk carefully -- and they still end up with a million bruises. (Omg, I just love this premise.) I often felt the accidents weren't that bad. Like possibly it was a bit of an over-reaction. BUT BAH. I have a bit of an analytical brain and sometimes I need to shushhhhh. Anyway. IT WAS GLORIOUS. It really focused on relationships too, and it kind of reminded me of The Perks of Being a Wallflower and particularly the quote of "you accept the love you think you deserve".BASICALLY THIS BOOK STOLE MY HEART AND IS NOW ONE OF MY TOP FAVOURITES OF EVER. I plan to hug this book for eternity. I just will. It's that kind of book that just was all for me. So I love it. So therefore everyone should read it. Go now, what are you even waiting for. READ IT.

Accidents happen. Our bones shatter, our skin splits, our hearts break. We burn, we drown, we stay alive.The Accident Season is an imaginative and whimsical paranormal book that'll keep you up at night. Just a little tip: you might want to keep a teddy bear close while reading this one, too.The main thing that turned this into a successfully haunting read was the writing style. Doyle's writing will make you feel like you're floating, and maybe even kind of... unsteady, which is perfect to get a good feel of the story's spooky atmosphere. Although for some (weirdos like me), it might be a bit off-putting. Personally, it made it a bit tougher for me to feel--like I said, I was sort of floating throughout the whole book.And now, let's talk about the characters. While I did love the idea of them, I didn't really love them. Let me elaborate here. See, I love how Doyle seemed to go against some character stereotypes, but I just couldn't get a good grasp of them. Maybe it was because of the floaty feeling the book gave me. Maybe it's because I felt like some of them were too all over the place (like everyone kissed everyone without telling each other), or because I wasn't given enough time to really figure them out.This book also had romance in it, which may or may not be a good thing. I mean, I didn't love any of the relationships in particular, but I didn't mind them being there. They didn't necessarily add anything to the story, but they didn't take the spotlight off the mystery, either. Okay, maybe I did sort-of like the main ship, but the side-ship (I deem this a thing now!) was pretty meaningless and had no chemistry.If there's one thing I appreciated most about this book, thought, it's that it was it actually made sense. If I'm being really honest here, a lot of mystery and thriller books have these twists that come out of nowhere. The twist in The Accident Season will make you nod your head along, while still getting these chills that'll creep up your spine.Y'all should know that I'm a huge wuss, but for some strange reason still love reading books that'll creep me out. And did Doyle succeed in doing just that! There were a handful of scenes in this book where I just wanted to call my mom to bring me a blanket and my teddy bear. They weren't particularly holy-shit scary, but they were definitely spooky and mind-boggling.Aaand Doyle also included changelings in the book, which I greatly appreciated. I love how she went with the descriptive route with them--I loved picturing these odd creatures in my mind, and it was awesome that each of them were very different and easily distinguishable.Anyone looking for a magical realism book with a good twist and lovely chills will definitely enjoy The Accident Season. Unless you don't like getting that floaty feeling when you read.Deadly Darlings | The Social Potato | The Book Geek | Twitter | Instagram

**I was provided with an ARC of this book for review from Penguin**Well that was a really interesting book with an interesting premise, but I didn't LOVE it. I definitely enjoyed it/needed to know WHAT HAPPENED. There was also some good representation (not really gonna say more in case of spoils) and I enjoyed reading about a book not set in America or with American main characters. That made everything all the more interesting! The last bit of the book was also creepily great - it's the part of the book that really shines.The writing threw me for a loop at first and it took a while to get used to it. That, coupled with the slightly boring nature of the first half of the book, made it not amazing for me. The end of the book made up for a lot of the first half though. Though I do think the plot was interesting, it felt the plot twists were something I had read before, so I was never fully surprised. It also felt like this book was trying to be a few different books at once, so nothing felt TOTALLY coherent.Overall, I enjoyed it and pretty much sped through it & I definitely don't regret reading it at all, but I definitely had some issues. If the basic premise sounds interesting to you - pick it up! You may enjoy it more than I did. PSA: There are a lot of triggering things in this book but I feel like listing them would be considered a spoiler, so if you would like to know the triggering things message me and I'll tell you.

(Source: I received a digital copy of this book for free on a read-to-review basis. Thanks to Random House Children's Publishers UK and NetGalley.)"It's the accident season, the same time every year. Bones break, skin tears, bruises bloom."This was a strange but captivating book, and I liked the twists.I really liked the characters in this book, even if they made some suspect decisions. Who sits near a railway line, who goes into abandoned buildings during 'accident season'? (a month-long period during which you are most likely to be injured). Surely that is just asking for trouble!"You know," I say to Bea a bit breathlessly, "for someone who's so afraid of accidents, I sure do a lot of stupid stuff."Bea was also a funny character, and I loved her tarot cards and strange tales!"But every once in a while," Bea continues, "the prettiest virgins would find an object they weren't supposed to touch, and that was the witch's kiss. All witches keep their kisses in everyday objects, so that their hearts won't beak too often."The storyline in this was pretty good, and I liked the way there was plenty of mystery and I wasn't sure what was going on. The story also had a bit of a magical feel to it which I also liked."All around the clearing, hanging from the branches of every tree, is a flock of dreamcatchers, the kind you can get at the Saturday market in Galway: colourful webbed circles hung with little beads and feathers."I also really liked the idea of the secrets box, and I loved the little 'Irish' moments, such as when someone asks 'Will I call an ambulance?' - only in Ireland would someone say 'Will I?' instead of 'Should I?'.There was some romance, and even though it was a little taboo, I thought that this couple were really sweet together!"I'm just so ridiculously in love with you." The tear in my world is getting bigger. Soon it'll blow the whole universe apart. "I try to hide it, I try to stop it, I try to bloody kill it but it just won't go away."The ending to this was pretty good, and I liked the revelations at the end. This story had a little bit of magic, a little bit of romance, and a touch of the paranormal, and it was really good!7.5 out of 10

Read the full review on 100% Rock Magazine!There are no ghosts; only the dust in the light, our breath and the wind in the quiet, and the feeling that something, or a lot of somethings, are watching us. So maybe there are ghosts after all.Deliciously creepy and wonderfully curious, The Accident Season is definitely the perfect autumnal read. The author did an excellent job of making the story odd enough to give the reader chills but also making it flawed enough to have them second-guess themselves from the very first page.Seventeen-year-old Cara and her family are cursed. Near the end of October, "the accident season" begins to work and accidents happen.Accidents happen. Our bones shatter, our skin splits, our hearts break. We burn, we drown, we stay alive.Sometimes, people die. The Accident Season took more than one of Cara's family members away, and the family grows more accident prone as a consequence. Cara's sister is hit by a car, Cara almost drowns, their stepbrother, Sam, breaks more bones than is deemed normal — and every year, they try their hardest to survive. Cara's mother goes overboard every year: padding the house from top to bottom, removing the cooker and sharp utensils (or anything sharp, really) and making sure each kid wears at least three protective layers before leaving the house. They must avoid everything that could cause them harm, and if there's no way around it (for example, crossing the road) they must, at all cost, do it together.But this year is different: Cara, after going through old family photo albums, finds that one person is always present in the pictures. A young girl called Elsie, whom Cara has known since childhood, and Cara is convinced that if she confronts Elsie, she will find the answers to the accident season.Except Elsie is missing. No one seems to remember her, or even recall what she looked like. This year's accident season is about to be the messiest one yet.What made The Accident Season creepy was, firstly, the writing style. Fowley-Doyle has a way with words that makes you feel like you're floating, like everything is, in fact, ghostly and otherworldly. There's nothing simplistic about her style, especially when it comes to describing abandoned houses. It's entrancing and addicting and hard not to get sucked into this Ireland.Secondly, the characters are what made the story so wonderfully poignant and curious. Cara, Alice and Sam are a perfect trio: they would do anything for each other and love to indulge each other's wild fantasies. Each characters, although always narrated by Cara, has their own personality, something that distinguishes them from each other, and each characters has secrets they would do anything to keep hidden.I was swept up by the author's writing, her descriptions of Ireland, and every scene left me with a dry mouth and a racing heart. I absolutely adored the romance, how "taboo" it seemed (in both cases) and how it didn't eclipse Cara's race in finding out the truth about her family, Elsie, and the past accident seasons. And no matter the romance, the book focused a lot on relationships in general, and it was very We Were Liars and The Perks of Being a Wallflower in this regard. It was very different, very wonderful, just deliciously amazing.The best way to describe this book would be: slightly ghostly, incredibly creepy and with a huge dose of mind-blowing plot twists ready to give unsuspecting readers headaches. Good headaches. The Accident Season is the sort of book you can't (and won't) stop thinking about for a long, long time.

"The tear in my world is getting bigger. Soon it'll blow the whole universe apart."A blend of mystery, suspense and magical realism, The Accident Season blurred the lines between reality and fantasy. With an unreliable narrator and engaging prose, it has become confusing (in a good way) to know where the fantasy ends and the reality begins and that's how I like it. It is somehow, at least for me, reads like a Nova Ren Suma novel.The Accident Season is a haunting novel that gave me the feeling of not just suspense and dread but a strong sadness and anguish as well. My first impression before reading this book is that I'll get a Final-Destination kind of experience. But, this book is more than just that. It is a ticking-time bomb of emotions waiting to explode. It has a buried treasure of the ugly truths that are waiting to be dug upon. The main revelation, actually, is predictable. I saw it coming already when an odd narrative has been inserted between the main narrative but I'm not expecting the things attached to it. It sends a wave of dejection, my heart gets heavy.I must say, the characters were well-developed. Their characterization had been treated fairly. The growth of each character made me care about them gradually just like how the novel revealed their personal demons and struggles and the secrets they kept. Also, I appreciate the magical realism a lot in this book, especially, the main character's imagination of the four changelings. It really does make sense and subtly describe the four main characters. I found it oh-so-amazing and an intelligent representation.Truly, The Accident Season is an amazing novel of family dynamics, friendship, buried secrets, grief and denial. And I'm truly sure that I will read the next books from this author.

The premise and plot of this novel are brilliant, unusual and haunting. But (and it's a very big but) the first 3/4 of this book bored the living hell out of me. It felt slow, like most of it was filler and just unnecessary, and I didn't care about any of the characters because they just didn't feel real. Only Alice felt three dimensional and actually likeable. The last quarter of the book is creepy, engaging and exciting, with twists and turns that I did see coming (a mix of often-used plot twists and foreshadowing spoiled it for me) but still enjoyed immensely. So, to summarise, I really didn't get on with the first 3/4 to the point I actually wanted to give up, but with the final quarter it redeemed itself and became much more enjoyable and memorable.

Not going to lie, I picked this up purely because of the beautiful cover and the insane amount of hype it received a year or two ago. Never did I imagine the evocative beauty and haunting poignancy it would deliver!I assumed this was going to be a straight-up YA thriller. Which it is. But it can also be described as fantasy, magical realism, paranormal, romance and contemporary. In short, this book is everything and nothing like the genres it can be classified as.The accident season comes every October, without fail. Trips and falls, scuffles and knocks, are all part of the terror the month brings. And so is broken bones, spilt blood and death. No amount of padded clothing and careful planning can prevent it. October takes its fill of ruination regardless, and this month it seems to want more than its usual fill.This book has an eerie quality that permeates the entire book. The opacity of the narrative disallows the reader to fully grasp the nuances of the plot until it deigns to release us from its grasp. In that respect, we are aligned with the characters: at the mercy of something pansophical and unknowable. The writing becomes just as much a part of the story as the plot and the characters.This is a very murky and troubling read. But one delivered in such a whimsical way as to bring light and beauty to the darkness. I can understand the mixture of opinions this book has received, as it is a book that defies classification and understanding. But this proved to be exactly what I adored about it. The unsteadiness of this book was alluring and left me breathless for more. I can't wait to see what else the author will deliver in the future.

2.5 stars. The writing IS wonderful. But I'm very rarely in the mood for books where I have NO IDEA what is happening almost the entire way through. I think people who like super unclear stories with cool imagery will have fun with this, but the sense of mystery was more boring than intriguing for me. And their relationship was just weird.

This was so good!!!!! Wild and beautiful and unexpected! OK so this was like really good! The weather fit perfectly. If its cold and rainy or just autumn then this is your book. Its one of those books that you can feel the chill in the air and it has creepy moments but you kinda have to put two and two together.Very Minor Spoilers AheadThe atmosphere is one of the elements I loved the most. And the characters!!!! They were perfect! Our MC is awesome. She is a bit wild like the rest but she still has a soft and caring side. Her relationship with Sam is beautiful. Oh and Sam is just so sweet. The perfect relationship for the setting! Alice is Alice and Bea!!!!! Weird Bea who fits in great! As you can tell I love the MC ( Cali) and Sam the most but the bond between all four is phenomenal. I felt as if I were a part of the crew. Lastly the creep factor. It was creepy but just enough! So in all of Cali's pics she sees a part of this weird girl in the background. The girl runs a secret booth to collect people's secrets at school but has been missing for some days now. Annnnd..... The strange things..... I am not gonna say. Oh and the accident season! So all in all I want more!!!!!!!! From the same characters or similar!!!!!!! Recommended for everyone.

I began reading The Accident Season and was quick to pitch it as contemporary YA that also fell somewhere between The Ring and The Falling. As I carried on reading, the story moved away from horror, yet would aptly be read against the musical soundtrack for The Falling. You may have heard about the mysterious tarot cards and the creepy red buttons, but the The Accident Season is not so much scary story as it is a wonderfully evocative contemporary novel with many eerie twists.The Accident Season captures the reader straight away with two not-yet-interwoven storylines surrounding our protagonist Cara, best friend Bea, sister Alice and ex-step-brother Sam. Cara discovers that a quiet and seemingly unnoticed fellow student called Elsie appears in all of her photos, whether a strand of hair or a flash of school skirt. Meanwhile, the accident season is approaching; it occurs every October without fail. Although they desperately try not to get hurt, they always do, so hidden are the cuts, the bumps and the bruises. Sharp knives are locked away and jagged edges are covered up. But the accident season always arrives and just how serious it will be, they can never be sure.Moira Fowley-Doyle's debut novel is stunning, lyrical and incredibly haunting. Even though it's been a week since I finished the book, I can still hear "So let's raise our glasses to the accident season, To the river beneath us where we sink our souls, To the bruises and secrets, to the ghosts in the ceiling, One more drink for the watery road." being chanted by the characters I've left behind. Moira Fowley-Doyle's writing is what stands out the most. The Accident Season is a compelling story of family, first love and friendship, the blurriness of secrets and lies, and everything in between, but it's brought to life by Moira's beautiful words. Masked balls, crumbling houses and ethereal changelings that only Cara can see all provide a stage on which Moira can perform.The Accident Season is a beautiful mix of contemporary and . . . I'm not so sure. It's a concoction of magical, paranormal and fantastical happenings entwined in eloquent prose. You'll be organising your own Black Cat and Whiskey Moon Masquerade Ball in no time!Thank you to the publisher for providing this book for review!I also reviewed this book over on Pretty Books.

"All witches keep their kisses in everyday objects, so that their hearts won't break too often." You can find this review and all of my other reviews at Novel Descent Thanks for the support!This was one of the bigger surprises for me this year. I didn't expect to think much of this one and only picked it up on a whim and ended up just loving it. The Accident Season is about a family who seems to be almost cursed. Every year around October (has to be Halloween month, right?) the family starts mysteriously having a bunch of "accidents" among them. Whether it be breaking bones, falling down stairs or just bumping into a table, something is always happening to them. This year they have been warned that it's going to be the worst yet. I don't even know how to go into this review. The Accident Season is such a strange little book, it's not exactly what it appears to be from it's summary. This book deals with some heavy issues and doesn't shy away from them. It tackles domestic abuse, sexual orientation, sexual abuse, relationship lines, etc. I was really surprised how many issues they talked about openly and didn't sugar coat it. The teens in this book were amazing, the development of these characters made me care so much about each and every one of them. I loved at how much they focused on the friendship of these people, it wasn't typical at all. These kids LOVED each other. They were damaged but they were there for each other through some pretty messy stuff. I wish more book would show this kind of solidarity in their relationships. There is a paranormal element to this book, it's not scary at all. It's quite an interesting part of the book and I didn't know where it was leading, which always makes me happy. The writing in the book is beautiful, very easy to get swept away with it. I can't really think of a lot of cons to this book for me. I guess the writing at times went a little overboard, it almost got too poetic to the point where it could be confusing. I think this is a love it or hate it kind of book. This book could easily confuse readers and; therefore, frustrate them. At the same time, it's a book that is very different and I think a lot of readers would find it refreshing. Give a try for yourself.

Really enjoyed this. However it wasn't entirely spooky enough for me and sometimes the metaphorical onslaught of Cara's changeling view came across as too pretentious. I like that stuff to be subtle and the writing didn't work so well for that aspect of the story. The final pages made me ugly-cry though, so you can tell I bonded with all the characters massively.

Beautiful writing, but paired with a plot/characters/storyline that just simply weren't for me. It's definitely one of those "it's me, not you" affairs. I was bored most of this novel. When I wasn't bored, I was confused, and trust me that is not much of an upgrade. I also didn't like any of the characters, I found the romances to be spectacularly... odd, and for a person who scares relatively easy, I didn't think this was "haunting" or "chilling" in the slightest. The only reason I didn't DNF this novel was the mystery behind it, which wasn't really mystifying but just strange and bizarre. However, I'm a sucker for not wanting to leave a riddle unsolved so of course I had to finish it, and thus confirmed the ending to be pretty underwhelming. The Accident Season somewhat reminds me of the writing style in The Strange and Beautiful Sorrows of Ava Lavender, and We Were Liars, which is probably why this novel didn't work for me. :/ But if you enjoyed the mention novels, then this may be your next favorite read! :)

4.5This was so wonderfully complex, in an equally-wonderfully unexpected way. You go in expecting a complex mystery, and you get a web of complex dynamics held together with a mystery. These are the best kinds of stories, really.

3.5 stars An atmospheric, compelling book that kept the pages turning. Which part is a dream? Which part is reality? While I don't need every question answered, I'm not sure everything entirely worked or held together, and I would like to have gotten to know the characters better, and to feel more for them. But still, a strong debut with a style that keeps you suitably off-balance. Would definitely check out a future book by this author. If you like Sarah McGarry's writing, you'll probably enjoy this. Maybe a bit more of a review at some point.

This book sings to my dark and wistful little soul, and I just can't get enough of it. It is always so hard to find a YA story that has a little bit of everything in it. I love a story that touches on fantasy and paranormal aspects, but is packed with sorrowful pain and whispered little secrets. This story has everything I crave tucked into its beautiful pages. This story needs to be read, trust me. For as long as they can remember, Cara and her family have been falling into unexplainable accidents at a certain time of the year. Most seasons result in deep cuts and countless bruises, but some seasons end in the death of loved ones. As another accident season comes near, Cara starts to notice the disappearance of a girl from school, Elsie. When Cara begins to question her teachers and classmates about the quiet girl, nobody seems to remember her or know anything about her. But what is even stranger, is that Cara starts to notice that Elsie is in every single one of her pictures. As Cara, her sister Alice, her stepbrother Sam, and her best friend Bea begin to search for Elsie, they also start to realize that each one of them has deep and hidden secrets that they keep from one another. As the season moves forward they start to learn that the accident season isn't all that it seems, and that their secrets are about to come forward. This book has been compared to We Were Liars, and I definitely see a resemblance. A group of teenagers who are lost and angst-ridden, and who have countless secrets drowning them. This story follows Cara, but also her family members and her best friend. They are subjected to countless accidents during the accident season, and it keeps the reader on edge. I found it interesting that these characters take such precautions during the accident season, in that they wear protective clothing and have padded their entire home. Though Cara and her siblings are meant to be extra careful during October, the reader will still find them doing reckless things which I loved. It lets the reader know that these characters are extremely human and still seek thrills and trouble, and I found myself smirking at the ridiculous things they would do. There are two specific elements of this story that I am infatuated with. The first being the way the author has entwined such creative fantastical and paranormal themes into the pages. The entire book has a dark and spooky theme, which makes it a perfect read for around the Halloween season. These characters are constantly running into each other's imaginations, where they get lost in magic and beasts. Cara has visions of seeing the four of them looking as they truly should: Bea as a mermaid, Alice as the Earth, Sam as character from a silent film, and herself as a fairy. Bea sees herself as a witch and looks to her tarot cards for answers, and speaks of ghosts and witches and werewolves. These aspects of the story gives the actual events that happen a dreamlike feel for the reader, almost as if to say "Is what you think is real, actually happening? Or is it all in your imagination?" Can you say WOAH? The second thing that I adore about this book is how the author has played with secrets. Instead of it being known from the beginning that these characters are keeping secrets, the idea of secrets is presented to the reader in a poetic way. At their school, there is a typewriter and a box where students may come and type secrets anonymously. At the end of the year, these secrets are strung up on clotheslines around the school, for everyone to see and share. The author throws the idea of secrets into the readers face so quickly, that they become blinded by the fact that the main characters will have severe secrets of their own that they are hiding. All I kept thinking about was WHY the accident season was happening and WHO Elise was. Although some things were not fully answered in black in white in this story, I think it is one of those reads that can be left for interpretation. I was pleasantly blindsided by a HUGE secret that came forward at the end of this read. In NO WAY did I see that coming, and I am so happy that this author could shock me in such a way! All in all, I am in love with this book. These characters felt real and flawed, almost as if they were real kids that I had spent time with. The imagination and poetic nature of the story is what pulled me in and kept me reading, and I had SO much trouble putting this story down. I highly recommend this to anyone that wants a DIFFERENT YA story that will get them thinking. This is definitely going to be a book that I reread for years.

Read the full review at Please Feed the Bookworm http://pleasefeedthebookworm.comThis book literally stole my breathe away. it is not a book that you read to understand, it is a book that you read to feel. if you try to hard to understand it the meaning will fall away. It's the perfect combination of wildness and danger. I have been sitting on this review for a bit since I wanted to take my time writing this review to do this book the justice it deserves. It all made up of part whimsy & dream, but also nightmare & fear, & reality & imagination. If you try to grasp it to hard it will simple slip through your fingers....much better to feel your way along. I have been careful to avoid all reviews of this book since I wanted absolutely no influence whatsoever in my thoughts and I am so glad I did. I wanted this book from the very moment I heard about it and now I am certain I know why.This review was originally posted on Please Feed the Bookworm

I thought this was a really really clever novel - it is magical and very strange, often disconcerting and beautifully written. It is a fast read mainly because it is very addictive with some highly intriguing characters whose relationship dynamics are exquisitely drawn.Every year around Halloween one family are hit by accidents - no matter what precautions they take this is a time of bumps,bruises, broken bones and some years real tragedy. During "The Accident Season" everyone is on tenterhooks and life is seemingly extremely dangerous But why? Well that is the question...It is a question that Moira Fowley-Doyle answers slowly and inexorably as she draws you into the tale, it is actually a really difficult review to write because I simply do not want to give anything away. The story has a real impact, much more so I think if you really come at it with no preconceptions. Things unravel in wonderful harmony - and it has an often eerie and menacing vibe that is very appealing.Overall a really most terrific and different novel that tests the boundaries a little in its conception and delivers a dynamic and emotional family drama with a hint of mystery and more than a touch of illusion.A favourite of the year so far for me.Happy Reading Folks!

Nebylo to jako Ostrov lhářů. Ale krásně napsané. Moc.A tak na smolnou sezónu zvedněme sklenkyna řeku pod námi, v níž smáčíme své duše,na boule a tajemství, na duchy pod stropem,ještě jednou si připijme na zmáčenou cestu.5/5Celá recenze: http://marky-books.blogspot.cz/2017/0...

This book, man.Edit: 2/17/17 -- Found myself thinking about this book again today, and when I came to GR to see when Moira's next book is coming out, realized my review somehow never made it over here. It's a video one, so I can't embed it, but... it's here if you're interested. (2 years later.)

This review was originally posted on It Starts at Midnight I didn't know entirely what to expect from The Accident Season as I have kind of made the choice to never look at a synopsis after my initial addition to the TBR. I knew it looked cool, and that I'd bookmarked it as a book I really wanted. I ended up getting it at BEA, and then in the mail from Penguin, which was awesome- especially since one of you get to win my extra copy ;)So, I was going in mostly blind. I knew it was about a girl and her family being prone to accidents during the titular Accident Season. That's pretty easy to figure out. But there was so, so much more to this story than the accidents. I was expecting a mystery, but I got mystery along with basically every single other thing I could want in a book.First, I found the writing to be lovely and mesmerizing. Everything about The Accident Season was incredibly atmospheric- I felt the damp October weather, the general creepiness that surrounded the story in every page. That isn't to say that the whole book was dreary, on the contrary, the characters were so well fleshed out, so relatable, that they positively shined.Let's start with said characters! Cara and her family are the main focus of the book and the accident season in general. This isn't something happening to everyone, this is isolated to these four unfortunate souls (Cara, her sister Alice, her ex-step-brother Sam, and her mom) who have to be very careful during the month of October. Cara's best friend Bea, who is also friends with Alice and Sam, is a tarot reader and predicts that this accident season will be extra awful. There is a bit of romance (the slow, non-insta-lovey kind that makes me particularly happy) that I absolutely shipped, and a huge part of this book is family related, since they are the ones affected by all of this.Here's the problem with writing a coherent review for this book: It is basically overflowing with secrets. All kinds of secrets about every aspect of the book, twists I never saw coming, revelations that left me breathless. For me to even talk about them would be doing you a disservice. So, want to know what you get if you decide to read this book (and I think you should decide to read this book)? Great!Really fun and down to earth characters. Flawed, but trying their best, wanting to have a normal life but being caught in this mess of an accident season, they are loyal to and protective of their family and friends.Mystery is everywhere. There's the mystery of the entire accident season, along with Cara trying to find a girl who hasn't been showing up at school. And with mystery comes all the secrets.A dash of paranormalcy adds to the mysterious quality of the book. Sometimes I wasn't even completely sure what was happening with the paranormal stuff, but I was not at all disappointed when I figured it out!All kinds of emotions! I laughed, I rooted for relationships, I swooned a bit, I was scared for the characters, I was shocked by twists, and yeah, I cried a time or two. But when a book makes me feel all the things, I know it is my kind of book!Bottom Line: Is there any doubt I am recommending this? It was unique, unlike anything I've read before, with lovely writing, amazing characters, and a plot that I won't forget! Get thee to a bookstore!**Copy provided from publisher for review

This is a book that I only gave three stars last year and yet somehow, it resonated as a four in my head. This book screwed with my mind. It's a book I'm left thinking about almost a year and a half after reading it. The Accident Season is magical realism, but I almost feel as if it should go into the suspense genre. This almost felt like a slow-burn version of Marcus Sedgwick. There are no answers as to what is going on for half the book, yet it somehow kept me turning pages. The plot is so odd that it surpasses odd and goes straight to good.There's something strangely unsettling about the writing, the characters, the atmosphere, the hints here and there. Along with Megan Abbott's masterful Dare Me, I'd call this the book that truly introduced me to atmosphere. Fowley Doyle does such a great job of bringing you into her world. I think what made this book stay with me was the character work. There are four narrators, and I kind of love all of them?? This book portrays an extremely tight-knit family, with a bit of a found family aspect. All the relationships twisting between them are so touching, but the teens are the true focus. There's one romantic plot that isn't really revealed until the last chapter, but at the end that couple's existence made me ridiculously happy. Their relationship is so well-built and so heartbreaking. If we're going to talk specific characters, Alice was my fav. Her story as an abuse victim especially is touching and well-written. There is one thing that really bothered me about this book - in fact, the only major flaw. The main romance plot is between a stepbrother and stepsister. Again, as a professional stepsister, this plot is such a big turn-off. While some may have no problem with it, especially since the characters did not meet until age ten, I found it very unsettling as someone with a stepbrother. I will never be able to handle plots that follow this line, sorry. VERDICT: If you can ignore that one thing, this book is a suspenseful and creative magical realism story. Can't recommend it enough.

I thought this book was so creepy-cool! Like, so creepy-cool that I'm going to make a special Goodreads shelf called "creepy-cool" just for this book. Other books may join this book on said shelf eventually, but for now, it stands alone as the most creepy-cool book I've ever read. Understandably, not everyone will enjoy this book as much as I did - it's unique, it's weird, it's out there - but if you're up for something "creepy-cool", I say go for it - it's definitely Roxy-recommended!

***WIN A COPY OF THIS BOOK!***4.5 stars. Mind = blown.Head = spinning.***Review posted on The Eater of Books! blog***The Accident Season by Moïra Fowley-DoylePublisher: Kathy Dawson BooksPublication Date: August 18, 2015Rating: 4 starsSource: ARC sent by the publisherSummary (from Goodreads):For fans of We Were Liars and How I Live Now comes a haunting, sexy, magically realistic debut about a famiy caught between a violent history, a taboo romance, and the mysteries lurking in their own backyard.Every October Cara and her family become inexplicably and unavoidably accident-prone. Some years it's bad, like the season when her father died, and some years it's just a lot of cuts and scrapes. This accident season--when Cara, her ex-stepbrother, Sam, and her best friend, Bea, are 17--is going to be a bad one. But not for the reasons they think.Cara is about to learn that not all the scars left by the accident season are physical: There's a long-hidden family secret underneath the bumps and bruises. This is the year Cara will finally fall desperately in love, when she'll start discovering the painful truth about the adults in her life, and when she'll uncover the dark origins of the accident season--whether she's ready or not.What I Liked:This book. Blew. My. Mind. There aren't a lot of ACTUAL magical realism novels in YA - there are a lot of fantasy, paranormal, etc., but magical realism is difficult to find. I'm a huge fan of Latin American magical realism - my second major is Spanish, and a focus of the literature I study has been magical realism, and Gabriel García Márquez (RIP, yo!). This book was everything that makes magical realism what it is, and yet it was an engaging and haunting Young Adult story that is a classic for the ages.The accident season has begun, in which Cara, her mother, her sister Alice, and her ex-stepbrother Sam, are at their most accident-prone. No matter how many layers of clothing, how many precautions with cutlery, machinery, tables, etc., accidents seem to happen around the month of October, and this year, it will be bad. Cara, Alice, Sam, and Cara's best friend Bea are perplexed by the disappearance of a girl at school. Meanwhile, they're trying to throw the biggest Halloween party in the town. But Cara is going to learn some truths that she might not be ready to learn, and the truth behind the accident season is one of them.I don't even know how to coherently write this review. I knew next to nothing about this book, before reading. I'd never even heard of it to be honest, but the publisher sent it to me unsolicited, and I decided to give it a shot. This is a psychological thriller magical realism mind-boggling novel that I can't even sum up or describe properly. WOAH!I like Cara. This book is written in her first-person point-of-view. She is caring and intelligent, and she's a dreamer and a reader. She starts to see changelings and fairies, but as with magical realism, this isn't a worrisome thing to Cara. A classmate of Cara's goes missing, and Cara sees her everywhere, yet nowhere. Cara is tenacious, and kind, and a bit naive too.The secondary characters are interesting and unique characters as well. Alice, Cara's older sister by a year, has a boyfriend who is four years older than her. He doesn't seem like the nicest guy, but Alice doesn't want to break up with him. Bea, Cara's best friend, is a bit eccentric - she read cards, and is often compared to a witch. Sam, Cara's ex-stepbrother, is related to her at all. His father and her mother married years ago, but then his father left her mother, but he lives with the family. I like Sam a lot! He and Cara are best friends, and they trust and depend on each other so much. When Cara confides in him about the disappearance of the girl whom no one seems to know, or about the changelings, Sam believes her. Sam is a good guy! He has a secret and it's eating at him, but eventually, he goes after what he wants.The story is so interesting and compelling, and mind-blowing. The accident season seems real, yet it seems like coincidences. Which is it? What "causes" the accident season? Is it related to the disappearance of the girl at school? Everything is connected, in the most twisty way... you need to get to the last pages to find out everything! Even when you think you know everything, you don't!There is romance in this novel! A couple pairs have romance going on. Nick and Alice are a pair, but they have drama going on from the start. Bea has her own secret pertaining to romance, as does Sam, and Cara. But NO LOVE TRIANGLE! And I love how the couples pair out! Cara's romance is slow-burn and sweet and I love it!The writing is BEAUTIFUL. Lyrical, almost like poetry, but not poetry at all. The scenes are descriptive but not paragraph-long descriptions. The imagery is stunning, and it wasn't hard to picture the magical elements in my mind, even if they were a bit out there. I LOVE the author's writing style!Overall, this book was STUNNING. Haunting, slightly creepy, totally engrossing, and very original and unique. The magical realism aspect is stunning! And the story is thrilling. It ends very well, very surprising, and very satisfying. This is a debut?! Hard to believe, because this lady is quite the writer!What I Did Not Like:I know I'm giving this book four stars, but I didn't really find anything that I didn't like in particular? Maybe I wanted a little more from the physical side of the romance, though the chemistry was there, and very slow-burn, in this novel. Otherwise, meh! Loved it!Would I Recommend It:I would totally recommend this book, to just about anyone! It's magical realism at its finest, in terms of modern-day magical realism (which I haven't seen much of, in Young Adult literature). This book would never have caught my attention, to be honest, but I'm glad the publisher sent me a copy! You don't have to be a magical realism, psychological thriller fan. Give this book a chance!Rating:4.5 stars -> rounding down to 4 stars but really, this book is a favorite of the year. It was nothing like I expected - I don't even know what I expected! I knew nothing about this book, but I'm glad I read it. It is magical and surrealistic and yet, totally realistic. I'll be looking out for more novels from this author!

I chose this book from my library's digital audiobook collection mostly because it was immediately available and I needed something to listen to right away! Turns out, it is a story that hits so many of my literary sweet spots. Read by excellent Irish narrator Colbie Minifie, this eerie story follows the lives of one family who, every October, are mysteriously afflicted with what they call "the accident season," in which family members are subject to injury and disaster. From minor bumps and bruises to fatal car accidents, the accident season wreaks havoc physically and psychologically. This year, 17-year old Cara is particularly anxious as she investigates why a missing classmate has been showing up in the background of every photograph she takes with her phone. Dark family secrets and clues to the origin of the accident season will rise to the surface. Spooky, atmospheric and overflowing with lush prose, this book will transport you to the cobblestone streets of Dublin, broken down houses in the countryside, and the chilling quiet of an Irish forest. Fanastic!–Kristy Pasquariellofrom The Best Books We Read In September 2016: http://bookriot.com/2016/10/03/riot-r...