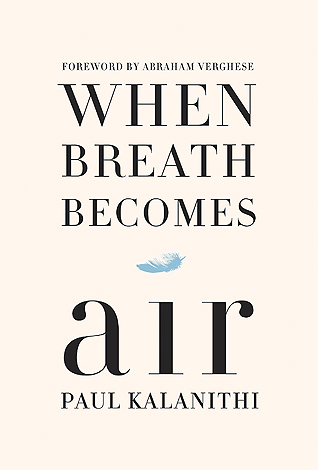 For readers of Atul Gawande, Andrew Solomon, and Anne Lamott, a profoundly moving, exquisitely observed memoir by a young neurosurgeon faced with a terminal cancer diagnosis who attempts to answer the question What makes a life worth living?At the age of thirty-six, on the verge of completing a decade's worth of training as a neurosurgeon, Paul Kalanithi was diagnosed withFor readers of Atul Gawande, Andrew Solomon, and Anne Lamott, a profoundly moving, exquisitely observed memoir by a young neurosurgeon faced with a terminal cancer diagnosis who attempts to answer the question What makes a life worth living?At the age of thirty-six, on the verge of completing a decade's worth of training as a neurosurgeon, Paul Kalanithi was diagnosed with stage IV lung cancer. One day he was a doctor treating the dying, and the next he was a patient struggling to live. And just like that, the future he and his wife had imagined evaporated. When Breath Becomes Air chronicles Kalanithi's transformation from a naïve medical student "possessed," as he wrote, "by the question of what, given that all organisms die, makes a virtuous and meaningful life" into a neurosurgeon at Stanford working in the brain, the most critical place for human identity, and finally into a patient and new father confronting his own mortality. What makes life worth living in the face of death? What do you do when the future, no longer a ladder toward your goals in life, flattens out into a perpetual present? What does it mean to have a child, to nurture a new life as another fades away? These are some of the questions Kalanithi wrestles with in this profoundly moving, exquisitely observed memoir. Paul Kalanithi died in March 2015, while working on this book, yet his words live on as a guide and a gift to us all. "I began to realize that coming face to face with my own mortality, in a sense, had changed nothing and everything," he wrote. "Seven words from Samuel Beckett began to repeat in my head: 'I can't go on. I'll go on.'" When Breath Becomes Air is an unforgettable, life-affirming reflection on the challenge of facing death and on the relationship between doctor and patient, from a brilliant writer who became both....
| | | |
| --- | --- | --- |
| Title | : | when breath becomes air |
| Author | : | |
| Rating | : | |
| ISBN | : | 25899336 |
| Format Type | : | Kindle Edition |
| Number of Pages | : | 208 Pages |
| Status | : | Available For Download |
| Last checked | : | 21 Minutes ago! |
---
when breath becomes air Reviews
As I finished this book with tears running down my face I asked myself, "Why did you read this book? You know it was going to be sad, how could a man dying of lung cancer before the age of forty be anything but." Yet to just classify this memoir, to classify this novel as such is to devalue the man he was. He was a lover of literature, a neurosurgeon, a scientist, a son and brother, a husband and father. He tried to live each day to the best of his ability, he helped many and he acknowledged the doctor patient relationship had a big disconnect with the reality of life, how their lives would change after being diagnosed with a serious illness. He was not a saint, he cried when given a death sentence, but his thoughts were not always for him, he always wanted to make sure his wife had a life after he was gone. So in many ways this was a profoundly beautiful read by a remarkable man. His wife says it best, "What happened to Paul was tragic, but he was not a tragedy."

A gasping, desperate, powerful little book, bigger on the inside than outside. It's a little bit about dying, but more about being alive.

I finished the book. I'm glad that I perservered with it. It's quite an odd book and an overall rating might be the sum of the parts, but is not going to reflect the writing or content of those parts.The first part, the foreword, by Abraham Verghese, was verbose, hagiographic and contradictory (view spoiler)[ie. full of shit (hide spoiler)]. He said he didn't know the author at all until after his death. Then he says well he did meet him and they had a long email correspondence. And so it goes. He says it's the foreword but should be the afterword. Verghese must have sat there with a thesaurus composing endless sentences of praise for the author, who had, like most of us, never accomplished anything much out of the ordinary. I dnf'd this part and give it a whole, rounded-up 1 star.The second part, I feel churlish writing this, I really do. The author had an interesting career in his short life, mostly as a student. He had a MA in English Literature, another MA in History and Philosophy of Science and Medicine, a BSc in Human Biology and finally an MD from Yale, before going on to be a neurosurgeon. It was in his brief career as a neurosurgeon and scientist he was diagnosed with cancer. He tried his best to be introspective and give guidance through the exponentially-increasing awfulness that is the journey through this dread disease. The problem was, he wasn't a natural writer although he'd wanted to be one all his life. Hi prose might have been just the stuff of essays at his Ivy League universities, but to me it is reminiscent of a writers' group where each attempt to outdo each other with portent-laden phrases and lots of deep literary references. It was tedious in parts. But... he did his best and he was a good doctor, husband and father, and this was only his debut book. Five stars for the man, but three stars, just, for this central section of the book.The long afterword is written by his widow. She is a doctor too, but could easily be a writer. She just has 'it' and her late husband, who wanted it so much, didn't. She rounds out the story he told, and continued on at length in the most interesting and well-written part of the book. Her ability to convey emotion without getting either lyrical or sappy was excellent. Five stars. Dr. Lucy Kalanithi should have been credited as co-author. I hope she goes on writingIt won't make sense to read the last part without the second, but you can easily skip the foreword, all it adds is unnecessary verbiage and lots of pages to make it look more than just the thin tome it really is.________________An example of the really rather awful writing that got me down. You may disagree, you may feel that the three words I suggest - dawn came up, are no substitute for the 150 poetic, lyrical, descriptive ones the author wrote instead. I'm too hard, right? (view spoiler)["And then we would sit and watch as the first first hint of sunlight, a light tinge of day blue would leak out of the eastern horizon, slowly erasing the stars. The day sky would spread wide and high until the first ray of the sun made an appearance. The morning commuters began to animate the distant south Lake Tahoe roads but craning your head back you could see the day's blue darken halfway across the sky and to the west the night remained yet unconquered. Pitch black, stars in full glimmer, the full moon still pinned in the sky. To the east the full light of the day beamed toward you. To the west, night reigned with no hint of surrender. No philosopher can explain the sublime better than this, standing between day and night. It was as if this was the moment God said, "Let there be light."Very poetic, very beautiful image. So anyway, dawn came up.(hide spoiler)]

Oh dear. I was always told not to speak ill of the dead. It feels awful to give a three star rating to a nice guy (by all accounts) who is now dead. But I simply did not find this book compelling or insightful enough. It is mildly interesting to learn about neurosurgery as a specialty and to read the author's thoughts as he faced diagnosis, illness and then death. I always felt that the author was holding back; that it was too clinical, too calm, just not passionate enough. The first time I felt that I was reading something worthwhile was in the 26 page epilogue by the author's wife. I guess the best way to say it is this; this is a quick read. And of course it should not be.

I don't think you should read this book because the story of an incredibly gifted man who had his life taken away at such a young age might give you the motivation to live life more fully. I think you should read this book because that talented, inspiring man has incredibly important things to say derived from his own experiences, and it's important to listen and learn from them. Read this book with the knowledge that you might not always be able to understand everything someone goes through, but you can set aside the time to listen to their story and hopefully give them the dignity and respect they deserve as a human being, in life or death. "Human knowledge is never contained in one person. It grows from the relationships we create between each other and the world, and still it is never complete." -Paul Kalanithi

Sharing this interesting New York Times interview with Dr. Lucy Kalanithi.She sounds like a very special person too:http://www.nytimes.com/2016/01/26/hea...***********************************************Upgrading this to 5 stars, not sure why I didn't before***********************************************After finishing this profound, emotional memoir I feel like I lost a good friend.Thank you Paul Kalanithi for this beautiful gift you left for us, wherever you are...Paul Kalanithi & Baby Cady during his last days of life Kalanithi with wife Lucy and Baby CadyI was going to try to write a longer review but my mind is not into it these days.All I can say this book will stay with me for a long time and everything good you've heard about how amazing it's well deserved.Sad, poignant, raw, beautiful...

1/12/16: Update: Just wanted to mention that this book goes on sale today. Its an amazing story!Paul Kalanithi studied literature at Stanford University. For his thesis, he studied the work of Walt Whitman, a poet , who a century before, was possessed by the same questions that haunted him. Kalanithi wanted to find a way to understand and describe what he termed "the Physiological-Spiritual Man." Kalanithi had a passion for literature. He began to see language as an almost supernatural force, existing between people, bringing our brains, shielded in centimeter-thick skulls, into communion. "There must be a way, I thought, that the language of life as experienced – – of passion, hunger, of love – – bore some relationship, however convoluted, to the language of neurons, digestive tracks, and heartbeats."Paul Kalanithi's thesis was well-received -- but neuroscience as literary criticism didn't quite fit in the English Department. ( nor did he). There was a question he couldn't let go of. "Where did Biology, morality, literature, and philosophy intersect?".Kalanithi consulted a premed advisor - set aside his passion for literature - and figured out the logistics to get ready for medical school. He was still searching for answers to the question "what makes human life meaningful, even in the face of death and decay?"When he was in his fourth year medical school, he watched many classmates choose to specialize in less demanding areas, (radiology or dermatology for example). It puzzled him that many students focused on lifestyle specialities--those with more humane hours, higher salaries, and lower pressures. For himself, he chose neurosurgery as a specialty. Kalanithi was diagnosed with Cancer. ( he actually was almost certain he had cancer many months before getting an X-Ray or MRI). Once it was clear that the cancer had invaded multiple organ systems--( "severe illness wasn' life altering--it was life shattering"), decisions needed to be made. His wife Lucy, father, siblings, doctors were all involved - and chemo would start soon. Clarifying the rest of his life ( only age 36 at the time), was going to be a process. He and Lucy went to visit a sperm bank to preserve gametes and options. They had planned on having kids at the end of his residency. To think. Paul Kalanithi wrote this book - relentlessly- fueled with purpose during the last year of his life -- never got to finish his life's plan..( yet he still worked that last year).... But he was racing against time. With this book - he was hoping to confront death - examine it- accept it-- as a physician and a patient. He wanted to help other people understand death and face their mortality. "It's not exotic..but tragic enough and imaginable enough he says". There is a beautiful - but so sad- Epilogue by Lucy - from Paul's wife at the end of the book. Their baby had been born eight months before Paul died - March 9th, 2015. Lucy reports that Paul let himself be vulnerable and comforted by family and friends.. and even when terminally ill, he remained fully alive! Thank You Random House, Netgalley, and Paul ( and Lucy), Kalanithi

I read this almost two months ago and realized I never reviewed it. When I finished the book, I just couldn't review it. It's a small book, but it's powerful. I didn't shed any tears at the end of it, but I remember sitting there physically shaking and feeling really numb and tingly. A book has never impacted me that way before, and I'm not even sure why I read the book in the first place since I knew what I was getting myself into. Wait, I know why I wanted to read it. It was very therapeutic for me. I don't want to pull back the curtain too far on my life, but I've seen the havoc cancer causes out of nowhere in people's lives. People very close to me. I've held my grandmother's hand as she took her last breath after battling pancreatic cancer. My grandfather wasn't far behind her thanks to cancer in his lungs and throat. My dad has been battling colon cancer for the last two years. He's up and down. I think chemo does more bad than good. It's definitely taken its toll on him, but he's fighting. All this cancer and death hitting so close to home left me in this weird phase two years ago where I got to learn what a panic attack feels like. It's like having a heart attack, but not really, but close. It's scary. I think cancer blasting through my family while I was in the process of trying to move across the country just really shook me up. I still deal with the effects of it sometimes. I think God was just trying to show me there are some things in life I can't control. I can pick my job, my house, what to watch on Netflix, but I have no power over death or cancer or a heart attack or a car crash or any of it. YeahSo this book was helpful. I felt like I really connected with it and it was something I needed to read. You might not have quite the same reaction, but I still highly recommend reading it. Fiction is always great to escape the dark realities of the world we live in, but sometimes confronting those realities head on is extremely beneficial.

Unforgettable is what Verghese says in his foreword. I agree and am fighting for my own breath to write my thoughts about this stunning memoir that has left me gasping for air. The writing. The emotion. The beauty in the darkness of dying. I mourn the death of this writer, a surgeon of great potential. A doctor of great compassion. But the message he has left us is quite eloquently simple: make life as meaningful as you can in the time you have. Be grateful. The touching epilogue his wife Lucy wrote.My tears runneth over. 5⭐️ - have upped this. This one will stay with me for a long while.

Never has a book turned me into a sad sobbing mess so quickly. Philosophical, beautiful, moving, difficult, heartbreaking. Highly, HIGHLY recommend.

Okay, I so wanted to like this very absorbing book more than I did. I am not going to recap it other than to say that Paul came from a privileged background, a very supportive family and an Indian (Asian Tiger) mom. He succumbed to an aggressive form of lung cancer. My own wife died of lung disease (idiopathic pulmonary fibrosis). Outside of the hospital I was her caregiver for a year and a half. I was the one who made sure she had oxygen, got to her appointments, watched this once vital woman deteriorate, and held her hand in icu when she passed. Unlike Paul and Lucy, we did not stay together out of a sense of obligation because one of us was sick. Unlike Paul and Lucy we did not have an extended family to support us. Unlike Paul and Lucy we adopted. I went through this with her because I loved her. I never thought of another option even though she tried to persuade me once or twice that there might be other options. The book is very well written and Paul had a gift for including just the right amount of medical detail and jargon. He explains things precisely when explication as needed. The book flows smoothly from his childhood through Stanford and then Yale medical school. Paul according to himself is just about the best at whatever he undertakes and again according to himself he always takes care to score one more point than his closest competitor. He catalogues a list of the books he has read -- exclusively Western -- and drops a few favorite quotations from some. Strangely he makes no mention of Indian writing or writers or of the great Kiowa author Scott Momaday who matriculated at Stanford. Kinda too bad Paul did not read Momaday. If he had he might have understood the power and use of words better than he did.He becomes according to himself a wonderful neurosurgeon, probably the best ever although he does not reduce it to that exact description. He is decisive, fast, innovative and just an all around wonderful doctor.If you are getting the impression that he comes across as extremely self centered you broke the code. If you are getting the impression that he comes across as lacking real depth you not only broke the code you read between the lines.The book is very well written and at times absorbing, but it left me wondering, was that all there was to Paul and Lucy?

Wow. I had to wait a little bit to pull myself together before writing a review of this exquisite book, even though I am tremendously late to the party on this one."...See what it is to still live, to profoundly influence the lives of others after you are gone, by your words. In a world of asynchronous communication, where we are so often buried in our screens, our gaze rooted to the rectangular objects buzzing in our hands, our attention consumed by ephemera, stop and experience this dialogue with my young departed colleague, now ageless and extant in memory. Listen to Paul."Paul Kalanithi was, by all accounts, an excellent neurosurgeon, with the potential of being a true guiding force in medicine and science. He spent most of his early adult life seeking knowledge on multiple fronts, from literature and science to philosophy and ethics. When he finally decided to pursue a career in neurology, he wasn't just content to be a doctor—he wanted to understand and identify with his patients fully, to help them and their families adjust to whatever their new reality would be following a diagnosis, an accident, a surgery."I was pursuing medicine to bear witness to the twinned mysteries of death, its experiential and biological manifestations: at once deeply personal and utterly impersonal."At the age of 36, Paul was diagnosed with Stage IV lung cancer. Suddenly his life has transformed him from doctor to patient, not an easy transition for anyone, especially someone as hands-on with patient care as Paul had been. While he and his internist wife Lucy are prepared for the worst, Paul's oncologist has hope, and doesn't allow him to wallow in his diagnosis. If he wants to stop being a neurologist, she tells him, it has to be because he doesn't want to continue or wants to pursue something else—his cancer won't stop him.As he struggles with thoughts of his future, however long that might be, he ponders how to fill that time. Should he continue working in a field that has so richly given back to him, and given him the chance to touch so many lives? What gives a life value, and how can that value be measured? What obligations does he owe his family, his friends, his wife, his infant daughter?"At those critical junctures, the question is not simply whether to live or die but what kind of life is worth living."When Breath Becomes Air is an intellectual and deeply emotional memoir, written by a young man with so much promise, so much heart, so much empathy. It is both a reflection on coming face-to-face with one's own mortality and a commentary on the responsibility doctors have to help their patients and their families through that same reflection, whether it happens with some warning or suddenly. It is also a love story, of a man and his wife, a man and the child he will never truly know, and a man and his career.You know from the very start of Abraham Verghese's introduction to the book that Paul lost his battle with cancer, yet the end of his life, and the epilogue written by Paul's wife still feel like sucker punches. You mourn a man you probably never knew, but you feel truly blessed he chose as one of his final acts to share his life, his death, and his thoughts with the world, because we are all better for them."'The thing about lung cancer is that it's not exotic,' Paul wrote in an email to his best friend, Robin. 'It's just tragic enough and just imaginable enough. [The reader] can get into these shoes, walk a bit and say, 'So that's what it looks like from here...sooner or later I'll be back here in my own shoes.' That's what I'm aiming for, I think. Not the sensationalism of dying, and not exhortations to gather rosebuds, but: Here's what lies up ahead on the road.' Of course, he did more than just describe the terrain. He traversed it bravely."This is a beautiful book, truly a work of art that I won't soon forget. Easily one of the finest books I've read in some time. My thanks to the Kalanithi family, and Paul himself, for this opportunity to view such an exceptional man at such a critical juncture in his life. See all of my reviews at http://itseithersadnessoreuphoria.blo....

"To begin with -- or, maybe, to end with --I got to know Paul only after his death. I came to know him most intimately when he'd ceased to be." (Abraham Verghese)And we, for the most part, can actually say the same thing about Paul Kalanithi. We've come to know of him only after he had left this world of ours. Ironically, I write this on March 9th, the one-year anniversary of his passing.Paul Kalanithi: son, husband, father, brilliant surgeon. He was a healer whose very existence gave hope to so many. How can this be? In my humble opinion, I believe that we are here on this earth for the appointed time of our being. We draw no more breath than what is pre-determined by a Higher Being....be it the last, raspy breaths of the elderly or the sole breath of a dying newborn. Paul was here for his personal alloted time.This book is divided into two sections: before cancer diagnosis and after cancer diagnosis. Many have expressed a disconnect after having read this story. Many were looking for the gentle words of the dying in philosophical terms. The little nuggets were indeed there. But the perspective was all Paul's.The beginning of the book was both clinical and procedural. That was Paul revealing his sense of "being"......what it took to become this focused man of medicine and of science. His steps were measured in the direction of his accomplishments and towards the light of a future that was never meant to be.The second part of the book concentrated on the shifting of his identity from directing physician to the role of dependent patient. His profound knowledge of medicine served him in a limited capacity as he fought against the aggression of the disease. "But I'd had no idea how hard it would be, how much terrain I would have to explore, map, settle." Much like the rest of us in our stilted human experience.The Epilogue is beautifully written by his wife, Lucy. She writes: "his transformation, from life to death, the ultimate transformation that awaits us all."When Breath Becomes Air should not be taken as a maudlin reading, but one of hope and one of living a life well, no matter what the promise of longevity reveals.

alternative title: "How the upper class dies"Autobiographical book by a guy who's trained and studied all his life, nearly became a writer, then chose to become a doctor instead (that's what happens when you come from a family of medical doctors), and is diagnosed with cancer at the end of his training. Torschlusspanik [1] sets in and he has to write that one book he always wanted to write. It's partially an autobiography of his training, a hymn to his wife, and a bit on patient-doctor relationship.Sometimes it's way too pretentious for its own good, lots of classical lit, lots of poetry quotes, lots of namedropping - who on earth reads Wittgenstein to a newborn?? - and sometimes it's too sentimental and just straight-up walks into Tuesdays with Morrie territory. It is not an ugly death - for that the family is too well-trained in medicine to "fight" ultimately senseless fights, too well-acquainted with death to cause a fuss, too rich to die in a dump, too well-connected to suffer bad doctors.The last chapter written by the wife after his death is probably the best - still, I wouldn't recommend it, not much new, not that interesting [2]. Would make a good book for Oprah's Book Club.I can guarantee you that yours and my death will be much worse than what is described here. Here there is no constant vomiting, no blood, no mucus, no week-long screaming from the pain. Death is too clean, like the book itself.[1] One of the best words we have in German - literally "gate closing panic", it usually denotes a woman who starts to behave unusual once she realises that her child-bearing age window is closing, but it can be used to describe everyone who starts to behave unusual once time starts to run out[2] It feels extremely mean to write that about a guy's work who has just died

A very high 4 stars. When Breath Becomes Air is so good and so sad. It's a brief memoir of a life ended way too early. Kalanithi was 35 years old and finishing his training as a neurosurgeon when he was diagnosed with an aggressive form of lung cancer. As he was living out the end of his life, he wrote this brief powerful memoir. In the first section, he describes how he became aware of his diagnosis -- he essentially self diagnosed. In the second section he explains how he decided to become a neurosurgeon -- he wavered between being a writer and a doctor but decided that he wanted to do something tangible that engaged him in the real world -- although he had planned to become a writer later in life. In the third section, he writes about being a patient, his struggle to live a normal life, becoming a father, and his failing health. And the final section is written by his wife after his death – she writes about his death, how he wrote the book and who he was to her. I'm not sure what to say to do justice to this book and to Kalanithi. There's a bit of a stream of consciousness feel to the book. But all the bits and pieces of narrative add up to a very meaningful whole: he writes strong fluid prose, he has a brilliant mind, he conveys his dual love of literature and science, and he has great human insight into life, medicine, dying and death. It makes for a very sad book -- not because Kalanithi is melodramatic or self-pitying – quite the contrary -- but because as I read and savoured his prose and thoughts I couldn't help feeling the sense of a life cut far too short. I can't fathom how he was able to so soberly write this book in the last few months of his life, but I'm grateful I had a chance to read it. Thank you to the publisher and Netgalley for an opportunity to read an advance copy.

[Originally appeared here (with edits): http://timesofindia.indiatimes.com/li...]It has been a few days since I turned the last page of this book. But the numbness reappears the instant I allow the pages to unfold in my memory. The silence which suddenly parts to let these memories seep in and cloud my vision, fills the air. Even as I grapple to make 'sense' of what it means to lose a dear, dear one, I, ironically, already know that very 'sense' to be ephemeral. No part of my being accepts death; they all adjust the lens to view it as a part of life.Paul was a neurosurgeon by profession, and passion, at Stanford University School of Medicine. Standing at the threshold of seeing his dream come true, one built on a decade and half of relentless academic pursuits and tireless hours at residency, he witnesses a cruel twist of destiny; he is diagnosed with terminal lung cancer, just months before his scheduled graduation. A doctor in mind and a fighter in spirit, he battles this uninvited and lethal intruder with immense mettle and equanimity, gaining much wisdom during the course and eventually, surrendering to its inevitability and in a strange, serene way, to its affability.Paul Kalanithi's memoir is a sublime read. It is a reminder of the transience of life yet an even louder reminder of longevity of deeds and memories. That in little manifestations and significant decisions, in careless words and sombre confessions, we continue to live, long after we are gone. He wrote most parts of this book during his last months in debilitating pain and treatment but he couldn't have sounded more balanced and calm. The impact of this book is not in his sage-like, detached, professional treatment of his grave illness but in its earnestness; earnestness to detect vulnerabilities and find a path through them that eventually stands meaningful. Somewhere around page 161, he talks about the much quoted five stages of grief – denial, anger, bargaining, depression and acceptance. And along with them, his case, with aberration, wherein the cycle was embraced in reverse order by him. From accepting his fate to slipping into depression at not being able to pursue his career, to adamantly cherry-picking duties at hospital, if only to be closer to his first love to getting angry at his lost mobility and scarred vitality, to finally, plunging into his surgeon duties with a vengeance, agonizingly shoving his deteriorating body aside, Paul exhibits an incredibly hungry mind and dedicated soul. As a reader, I have, many times, felt the palliative effect of books. During my times of distress, I have seen my sorrows and melancholy unloading on the sturdy and wise shoulders of authors and their verses. Thus, I could fathom the strength Paul drew from Beckett and Eliot, Forster and Nietzsche. And most importantly, from his wife, Lucy. A doctor herself, how crushing it would have been for her to keep a good head and not forsake the glimmer of hope in the light of her professional inferences. But as Mark Twain says, "The fear of death follows from the fear of life. A man who lives fully is prepared to die at any time."Paul and Lucy Kalanithi did live, in their lovely daughter, Cady. Born sixteen months post Paul's diagnosis, she had the physical company of her father for eight months only. But she will continue to know his courage and feel his magic every time she will pick this book up.

Paul Kalanithi is thirty six and so close to finishing his training as a neurosurgeon when he finds out he has stage IV lung cancer. As an undergraduate Kalanithi studied English literature and his love of reading and writing had been a constant through out his life. He had always felt that when he was older he would like to write and had decided to focus on neurosurgery for now, where he could make a bigger difference by saving people's lives. All his hopes and dreams for the future were suddenly unrealistic as an upper limit of a handful of years was put onto his life. Kalanithi pens this memoir, dealing with the struggles of facing death and having to go from being able to save others lives to now be the one staring down mortality. The writing was excellent but reading this memoir was so depressing. Just the fact that someone so brilliant was going to die and not be able to keep contributing when they clearly had so much to offer. I was disappointed by where the book left off but then I read the afterword to find out that he had died before he could even finish the memoir which just made it twenty times worse. Death is inevitable but like Kalanithi acknowledges we don't really think about it as being imminent and so it's not the same as when you're terminal and trying to make peace with dying. I just found it so hard to read him struggling to make sense of how to best use the rest of his time especially since there was no way for him to know how limited it really was. Also the fact that he didn't get to see more of his daughter and watch her grow up. It was just depressing honestly, well written but I just felt sad and I don't know what else to say. It just feels unfair because I wish I was even a fraction as smart or eloquent but I'm not but I get to live and he doesnt.

When Breath Becomes Air is one of the most beautifully written, heartbreaking, and affecting memoirs I have ever read. Even though the book is incredibly sad, it is ultimately life affirming and worth the emotional investment.At the age of thirty-six, Paul Kalanthi, a doctor nearing the completion of his neurosurgeon training, is diagnosed with stage IV lung cancer. This revelation becomes a dividing line in his life, something of a reversal of fortune. Paul goes from being a healthy physician with limitless possibility ahead of him to a sick patient with an uncertain future.Paul's love affair with literature began at an early age. "Books became my closest confidants, finely ground lenses providing new views of the world." Fearing that her son would not receive an adequate education in the small Arizona town where his father opened a cardiology practice, Paul's mother supplemented with endless literary classics. Paul, convinced that he would not go into medicine, decides to major in English literature but also completes a degree in human biology because of his fascination with the brain. "Literature provided a rich account of human meaning; the brain, then, was the machinery that somehow enabled it." After completing a Master's degree in English literature and wanting to discover where biology, morality, literature, and philosophy intersect, Paul chooses to apply to medical school. "Words began to feel as weightless as the breath that carried them." He longed for a direct experience. He selects neurosurgery because for him it was truly a calling.After the cancer diagnosis, Paul struggles with answering the philosophical questions that plague him. "The tricky part of illness is that, as you go through it, your values are constantly changing. You decide you want to spend your time working as a neurosurgeon, but two months later you may feel differently...Death may be a one-time event, but living with terminal illness is a process." Paul never claims to have the answers, but he perseveres and continues to live. Paul and his wife Lucy even decide to have a baby together. He goes back to the OR until he is no longer able to practice and then dedicates himself to writing this book. Unfortunately, Paul lost his battle in March of 2015, two years after his diagnosis. I am sure different people take different things from this book, but I was captivated by Paul's love of literature. He even credited literature for bringing him back to life during his first course of treatment. Paul's words are so eloquent, and frankly, I had to restrain myself not to quote the entire book. After learning of the cancer, Paul joked with a friend, "The good news is I've already outlived two Brontës, Keats, and Stephen Crane. The bad news is that I haven't written anything." Well, Paul Kalanthi did leave behind a powerful work of literature that I highly recommend.Indulge me for one final quote:In the end, it cannot be doubted that each of us can see only a part of the picture. Human knowledge is never contained in one person...It grows from the relationships we create between each other and the world, and still it is never complete. And truth comes somewhere above all of them.

Sometimes you don't go out and find a book; the book finds you. Facing an impending loss without a foundation of faith to fall back on, I find myself asking, "What is the meaning of life if we're all just going to die?"Paul Kalanithi answers that question in the most meaningful way possible in his outstanding book. A 36-year- old neurosurgeon, Paul wrestled between medicine and literature as an eventual career. Medicine won out and he was just on the cusp of a stellar trajectory when he was diagnosed with metastatic lung cancer. Paul nurtured a passionate belief in the moral dimensions of his job. He also strongly believed that the relational aspect between people undergirded meaning and that life's meaning has everything to do with the depth of the relationships we form in our journey. He says this, "The secret is to know that the deck is stacked, that you will lose, that your hands or judgment will slip, and yet still struggle to win …You can't ever reach perfection, but you can believe in an asymptote toward which are ceaselessly striving.Just as his surgeon's scalpel eased disease of the brain and saved lives, his words give reasons for living. The grace with which he navigates his journey – from a top-rated surgical resident to writer to his most important role of all, husband and father of a young daughter – his book is ample testimony to how one life well-lived can continue to create such a great impact.In the foreword by fellow doctor and writer Abraham Verghese, that doctor writes, "He (Paul) wasn't writing about anything—he was writing about time and what it meant to him now, in the context of his illness." And in the afterword by his wife Lucy, the meaning of that time becomes even clearer. I felt the sense of having lost a personal friend.Let me make this clear if I haven't already: this is NOT a self-pitying, manipulative memoir and it is not the reason I'm 5-starring it. It's a beautifully written, insightful, page-turning book on how we connect as humans and why life – no matter how truncated – is worth living. I will be recommending this strongly to just about everyone in my life.

Our shadow panel selection for the Wellcome Book Prize 2017. I first read this book a year and a half ago; when I picked it back up recently, I thought I'd give it just a quick skim to remind myself why I loved it. Before I knew it I'd read 50 pages, and I finished it the next night in the car on the way back from a family party, clutching my dinky phone as a flashlight, awash in tears once again. (To put this in perspective: I almost never reread books. My last rereading was of several Dickens novels for my master's in 2005–6.)What struck me most on my second reading is how Kalanithi, even in his brief life, saw both sides of the medical experience. He was the harried neurosurgery resident making life and death decisions and marveling at the workings of the brain; in a trice he was the patient with terminal lung cancer wondering how to make the most of his remaining time with his family.Yet in both roles his question was always "What makes human life meaningful?" – a quest that kept him shuttling between science, literature and religion. In eloquent prose and with frequent scriptural allusions, this short, technically unfinished book narrates Kalanithi's past (his growing-up years and medical training), present (undergoing cancer treatment but ultimately facing death) and future (the legacy he leaves behind, including his daughter).Looking back once again at the guidelines for the Wellcome Book Prize ("At some point, medicine touches all our lives. Books that find stories in those brushes with medicine are ones that add new meaning to what it means to be human"), When Breath Becomes Air stands out as a perfect exemplar.My original review from October 2015:I'm something of an aficionado of cancer memoirs, a subgenre that appeals for family history reasons but also because I appreciate stories lived right on the knife edge of life and death. Here's one I would recommend to anyone for the beauty of its prose – a fine blend of literature and medicine – and the simple yet wholehearted picture of a life cut short.Paul Kalanithi was 36 and just completing his neurosurgery residency in Stanford, California when he was diagnosed with advanced lung cancer that did not respond well to treatment. It came as a complete surprise and set the young surgeon's life on a new course. He and his coterie of doctors managed his symptoms so he could operate for as long as he could, but when the time came he knew he wanted to devote his last year to writing this memoir. In addition, he would get a brief, sweet taste of fatherhood: he and his wife Lucy, also in the medical field, decided to have a child.Kalanithi grew up the son of Indian immigrants in Arizona. "I was driven less by achievement than by trying to understand, in earnest: What makes human life meaningful?" he recalls. Degrees in English literature and human biology were disparate attempts to find an answer. Like Henry Marsh (Do No Harm), he has a surgeon's knowledge of the anatomy of reasoning, but realizes that does not provide a full picture. He recognizes the responsibility of holding others' lives in the balance, and regrets occasional failures of empathy."Those burdens are what make medicine holy and wholly impossible: in taking up another's cross, one must sometimes get crushed by the weight." It's intriguing to see religious language in that statement – indeed, Kalanithi saw his work as a calling, and one with moral connotations. Christian imagery shows up repeatedly:Instead of being the pastoral figure aiding a life transition, I found myself the sheep, lost and confused.Openness to human relationality does not mean revealing grand truths from the apse; it means meeting patients where they are, in the narthex or nave, and bringing them as far as you can.When's the last time you encountered the word "narthex"?! The vocabulary is striking throughout, as in another favorite passage: "A tureen of tragedy was best allotted by the spoonful. Only a few patients demanded the whole at once; most needed time to digest."Paul Kalanithi died in March 2015. There's a lovely epilogue from his wife – like Marion Coutts, the author of The Iceberg, she's more than competent to carry on his story.

This was such a beautiful, touching book! Not going to lie, the epilogue by Paul's wife nearly made me cry. SO GOOD. I also highly recommend the audiobook, although the narrator's voice was so soothing that sometimes I found myself not listening to him speak... my bad.

"This book carries the urgency of racing against time, of having important things to say."I knew going in this would be a tough read for me, and it was, but aside from that, it is a touching, heartbreaking and most "powerful tale of living with death" knocking at your door.Paul Kalanithi, neurosurgeon and writer was only 37 when he passed away from lung cancer, and besides the loss to his wife and family, such a great loss to the medical profession too. Oh what more this brilliant man could have accomplished!Paul's writing is straight forward and to the point, and wife Lucy does a wonderful job with the epilogue and follow through to fulfill her husband's request for publication.A sad, but memorable read. Daughter Cady will be so proud of her father.

By now I'm sure you've all heard about this book by the young Dr. Paul Kalanithi, who, in his mid-30s, was completing his training as a neurosurgeon and neuroscientist when he was diagnosed with stage IV lung cancer. At the time, he and his wife Lucy, also a physician, were contemplating having children. Universities were wooing him. The future was all mapped out, years of hard work about to pay off.And then he got the news about his cancer. Suddenly, he had to reassess his life and think: How do I want to spend the rest of my time, however long that may be?One of his long-term goals was to become a writer. And before he died in March 2015 he asked his wife (and now mother of his child) and parents to make sure this book – alas, incomplete at the time of his death – got published. And this is the result, a brief but powerful and remarkable volume.The book, complete with prologue and (written by Lucy) moving epilogue, is divided into two parts. The first recounts moments from Kalanithi's childhood, his early love of literature (he studied both literature and biology as an undergrad) and his discovery of his calling as a physician. The second deals with his illness. For the most part, Kalanithi's writing is clear and earnest, and there are some surprising moments. At one point during his pre-med years at Stanford he was so poor that he squatted for a time in an empty dormitory. He quotes a lot of literature, especially Joyce and Beckett, but I wish he had explored in more depth what he got from books.It feels churlish to critique the writing of such a multi-talented man who never got to finesse the manuscript in book form with an editor, but surely someone at Random House could have made some of these sentences more graceful: How little do doctors understand the hells through which we put patients. You can't ever reach perfection, but you can believe in an asymptote toward which you are ceaselessly striving. Our relationship was still deep in meaning, a shared and evolving vocabulary about what mattered. If human relationality formed the bedrock of meaning, it seemed to us that rearing children added another dimension to that meaning.I had to look up "asymptote," and I wish an editor had tweaked that awkward word "relationality."The second half of the book is much richer, because it's here that Kalanithi is forced to dig deep and ponder big questions. Here he is questioning his identity:Because I wasn't working, I didn't feel like myself, a neurosurgeon, a scientist – a young man, relatively speaking, with a bright future spread before him. Debilitated, at home, I feared I wasn't much of a husband for Lucy. I had passed from the subject to the direct object of every sentence of my life. In fourteenth-century philosophy, the word patient simply meant "the object of an action," and I felt like one. As a doctor, I was an agent, a cause; as a patient, I was merely something to which things happened.That last observation is simple yet profound. Witnessing his rapid maturation is inspiring and, in the end, makes you reflect on your own priorities. His final words, about his young daughter, are so wise and generous they'll make you tear up. And Lucy's bittersweet epilogue puts her husband's writing in perspective. She knows the book feels unfinished, and that it doesn't capture Kalanithi's sense of humour and other qualities. But sometimes, we can intuit, there's not time for everything. Let's be grateful for what we do have, not what we don't.

"Thank you for loving me."My heart is full! I was not expecting for this book to have the impact on me that it did. What a beautiful account of a man who truly lived his life to the fullest, despite dying quite young. He gave an incredible and resilient narrative on dealing and living with lung cancer and it unexpectedly shortening your life, but fighting through it despite all odds. Creating a new life, a new dream in that present moment and not letting the prospect of death stop you from living a life full of passion and hope. This is a story we can all learn from. An all-time favourite.

With over 1200 reviews in just over a month, there isn't much I can say that hasn't been said. I'm not sure I even need to acknowledge the brilliance, ambition, tenacity, curiosity, and endurance this man possessed or the fact that he wrote in a way that felt conversational and genuine, even when discussing procedures of the brain and medical school examples well outside most people's normal realm. His wife's epilogue was extremely well-written and reduced me to tears, as did his note to his baby daughter. I felt it was a wonderful gift he gave his wife by tasking her with seeing the book through to publication...giving her the opportunity to speak about him and truly keep his memory alive while really focusing on the most positive aspects of his experiences as a husband, a father, and a neurosurgeon.There is much to be learned here about death and living with a terminal illness, but what I came away with from this clearly unfinished memoir is simple: if there were more doctors endeavoring to make the type of connection to their patients that Paul Kalanithi saw as valuable and worked to establish, the state of medical care in this country would be improved in a way that likely cannot be quantified. This man came to realize the value of human connection. He witnessed the effect it had on a patient's ability to accept their situations and their ability to make decisions. He knew the strength of the doctor/patient relationship and he saw the positive outcome of treating the whole patient rather than focusing on just the medical problem to be solved. He was lucky to have an oncologist with the same vision treating him later in the book. Paul Kalanithi has left a great legacy. I hope his generation of doctors/surgeons/educators is paying attention. 5 stars for this beautiful, gentle soul and this book that could change the future of medicine.

"Servere illness wasn't life altering, it was life shattering. It felt less like an epiphany, a piercing burst of light illuminating what really matters, and more like someone had just firebombed the path forward. Now I would have to work around it."Paul Kalanithi is just thirty-six years old when he's diagnosed with terminal cancer. Before entering the medical field, he debated about whether to follow his love of literature into a teaching and writing field. It's touching that he got to do both things in his short life, and that his one attempt at authorship would produce this poetic, ethereal ode to a life more than half lived.I'm still processing this book several days after completing it, so excuse my lack of other descriptive words. Books like these make me overwhelmingly sad, so I don't usually seek them out, but in this case I feel so grateful for having met Paul through his work. Abraham Verghese described coming to know Paul through his prose in the foreword, and I couldn't have described it any better.

4.5 stars! What an emotional book! Dr. Paul Kalanithi was a neurosurgical resident entering his final year of training when he was diagnosed with stage IV lung cancer. This memoir is Paul's story for his daughter, Cady, who was 8 months old when he passed away, just 22 months after his cancer diagnosis. Among other things, Paul writes about his career, his love for his family, his views on the 'doctor and patient relationship' and his eventual transistion from doctor to patient. Something that really stood out for me in the book was when Paul explained that as a doctor, you study and learn all the exact descriptions and details of symptoms and illnesses and diseases, but you don't actually "know" what it truly "feels" like for the patient until you become one. You spend so much time advising patients about what to expect and how an illness may progress, how treatment may feel or what side effects you may get, but you don't TRULY KNOW how it feels to be in their shoes.The Epilogue, written by Paul's wife, was a very beautiful finish to the book. I shed quite a few tears throughout this book, but that Epilogue had me sobbing. Publishing this book was one of Paul's last requests to his wife and family before he died. How wonderful that Paul's inspiring story gets to live on forever through this beautiful book!

Paul Kalanithi, the author of this touching memoir, died of stage IV lung cancer in March 2015, ten months before the publication of the novel which would not only raise attention to his fate, but also to the general effects of the terrible disease that is cancer (which should never cease to deserve attention; it is a subject too important). When I first opened the pages of this book, what I expected was a clinical description of his disease's course, but Kalanithi surprised me and probably a lot of other people as well.This is a work of reflection. Paul Kalanithi lived for only 37 years, but in the end of his life he was thankful for the experiences he had and the life he was allowed to live, for the woman he married and the career he focused many parts of his life on. His reflections on the illness are touching and moving, but his book is also about his thoughts on doctoring, included many interesting aspects about his time-consuming steps to become a respected doctor and to establish his career as a neurosurgeon. Survived by his wife (who wrote the beautiful afterword to this book) and a daughter, Kalanithi talks about the struggle of first being a doctor treating patients and then, from one day to the next, turning into a patient being treated by doctors. After all, facing mortality is a difficult thing to do for everyone who had to deal with death at a certain point of their lives. And so was it for Kalanithi.I bear a lot of respect for Kalanithi and was incredibly touched by his fate. His prose was not always as natural and flowing as you might wish in a book, but he delivered the best he could, and I am the last person to criticize him for that - especially considering the circumstances under which he wrote these pages. Even more, the book was not as depressing as you might expect in a memoir about cancer."You can't ever reach perfection, but you can believe in an asymptote toward which you are ceaselessly striving."Paul Kalanithi's words inspired me, his story touched me, and I am grateful for the publication of his book, as what happened to him is so important for so many people.~~~If you are interested in more insight on Kalanithi, you may be interested in this short video: https://www.youtube.com/watch?v=d5u75...

Paul Kalanithi tells us about a 62 year old man with a brain tumor.We strolled into his room on morning rounds and the resident asked him "Mr Michaels, how are you feeling?""Four six one eight nineteen!" he replied, somewhat affably. The tumor had interrupted his speech circuitry, so he could speak only in streams of numbers, but he still had prosody, he could still emote : smile, scowl, sigh. He recited another series of numbers, this time with urgency. There was something he wanted to tell us, but the digits could communicate nothing other than his fear and fury."Fourteen one two eight," he pleaded with me, holding my hand. "Fourteen one two eight.""I'm sorry.""Fourteen one two eight," he said mournfully, staring into my eyes. And then I left to catch up with the team.I have seen another example of this kind of language affliction myself. My own mother had vascular dementia and lost the power of language in her last three or four months. And yet she still conversed with us. So she would speak in streams of jumbled syllables which made no sense at all, but they would sound exactly like normal speech – some streams of gibberish sounded just like amusing anecdotes and questions would have a rising inflection – you could tell when she was recounting a wistful ancient memory. In fact you could tell all the emotions of what she was saying, you just couldn't understand a single word, because she was no longer speaking in words. I think that in her own mind she was making perfect sense. Whether she could understand what we said to her is anyone's guess.Her final infirmity taught me a valuable lesson – not all dementia is cruel. Her version was quite kind. She seemed very contented. She never seemed to notice anything was amiss.Quite the opposite happened to the author of this remarkable memoir. He was a neurosurgeon, he was in his late 30s, just about to be launched into the very peak of a glittering career. He knew exactly what he was looking at when he saw his own CT scans.I was going through some books cluttering up my to-read shelf and I picked up this one today; I can't even remember how it got there. From somebody else I think. Not really my kind of thing – a bit morbid, a bit melodramatic, a bit obvious – but once I started I was hooked all the way to the bitter end. He has a beautiful style.I pulled away the fat until the fascia appeared and I could feel the tips of his vertebrae. I opened the fascia and smoothly dissected the muscle away, until only the wide, glistening vertebrae showed up through the wound, clean and bloodless. There's quite a lot of that. He is as unembarrassed about his own surgical skill as he is about his own cancer and its terrible progression. Some people, I guess, are just fantastic.I agree with everybody else : 5 stars.

Memoir, Moving Message, a Morning GloryAs memorable as it is moving for not only the charm and impact of Dr. Paul Kalanithi's writing but his impressive might to complete the memoir's manuscript maugre the malignancy that ultimately ended his life before he could finish writing it. Though I'd never presume as much, I try to maintain my faith that a reason exists for the premature death of someone like Paul Kalanithi, who was ably devoted to giving so much. That is to say, I must have hope that Dr. Kalanithi, a mid-30s highly respected neurosurgeon with a loving wife and infant daughter, was empowered by his disease, as the best of empyreal messengers, to contemplate, conceive and write his message with a profundity that reminds readers that we are mortal, a reminder not in a melancholic or morbid sense, but as eyeing a morning glory, as we move forward on the road to the rest of our lives. Put another way, I need to believe in my soul that angels are among us.As I see it, his message is that we each will die, but we can live a meaningful life by giving of ourselves to make an impact on others, by trying to improve those around us by doing good deeds and by art, such as by creative writing. In this way, we may live on, as Dr. Kalanithi has managed through this sublime memoir.I found touching his wife's epilogue describing his monumental endeavor to write this memoir and I especially admired her strength to endure what must have been an extremely painful ordeal in writing of his last couple of weeks, when he could write no more.