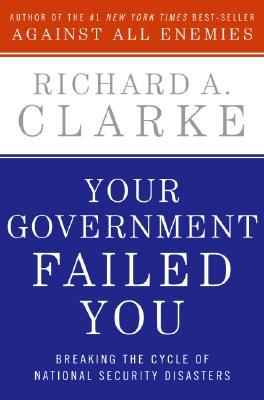 Richard Clarke's dramatic statement to the grieving families during the 9/11 Commission hearings touched a raw nerve across America. Not only had our government failed to prevent the 2001 terrorist attacks, but it has proven itself, time and again, incapable of handling the majority of our most crucial national security issues, from Iraq to Katrina and beyond. This is notRichard Clarke's dramatic statement to the grieving families during the 9/11 Commission hearings touched a raw nerve across America. Not only had our government failed to prevent the 2001 terrorist attacks, but it has proven itself, time and again, incapable of handling the majority of our most crucial national security issues, from Iraq to Katrina and beyond. This is not just a temporary failure of our current leadership—it is a systemic problem, the result of a pattern of incompetence that must be understood, confronted, and prevented.Clarke's first book, the number one bestseller Against All Enemies: Inside America's War on Terror, explained how the United States had stumbled into a struggle with violent Islamist extremists. Now, in Your Government Failed You, Clarke looks at why these unconscionable failures have continued and how America and the world can succeed against the terrorists. Yet Clarke also goes far beyond terrorism, to examine the inexcusable chain of recurring U.S. government disasters. Despite the lessons of Vietnam, there is Iraq. A trail of intelligence failures litters the Washington landscape. From Katrina to color codes and duct tape, "homeland security" has been an oxymoron. Why does the superpower continue to bobble national security?Clarke minces no words in his examination of the breadth and depth of the mediocrity, entropy, and collapse endemic in America's national security programs. In order for the United States to stop its string of strategic mistakes, we first need to understand why they happen. Drawing on his thirty years in the White House, Pentagon, State Department, and intelligence community, Clarke gives us a privileged, if horrifying, look into the debacle of government policies, discovering patterns in the failures and offering ways to stop the cycle once and for all....
| | | |
| --- | --- | --- |
| Title | : | Your Government Failed You: Breaking the Cycle of National Security Disasters |
| Author | : | |
| Rating | : | |
| ISBN | : | 9780061474620 |
| Format Type | : | Hardcover |
| Number of Pages | : | 416 Pages |
| Status | : | Available For Download |
| Last checked | : | 21 Minutes ago! |
---
Your Government Failed You: Breaking the Cycle of National Security Disasters Reviews
Richard Clarke worked for decades in the United States government's national security world. He reached the upper levels of government serving as an Assistant Secretary State and as the chief counter-terrorism official. He left government in 2003 over his disagreements overIraq policy. Shortly thereafter he wrote Against All Enemies, a memoir of his service, as well as a sharp critique of the Bush Administration's terror policy. In his latest book, Your Government Failed You, expands his critique from the personalities and policies of the Bush Administration to the structure and culture of the national security apparatus.There isn't much that escapes Clarke's scrutiny. The Defense Department reforms meant to avoid another Vietnam failed to prevent Iraq, but helped make it worse. The turf wars, resource allocation and hiring practices of the intelligence community fail to prevent strategic surprise. The Homeland Security Department is described as a underfunded, sum weaker than its parts agglomeration that serves more as a new spoils system than a provider of security.What is particularly challenging about fixing the issues laid out is the great difficulty in fixing them. In many cases, major legislation will be required and the necessary compromise will take quite a bit of time to implement. More worrisome is whether any single Administration can tackle all of these things in a single or even two terms.Topics like defense reorganization and the role of the National Guard might be rather dry, but Clarke is writing for both the lay reader and the policy wonk. He provides specific detail about what to fix, but does so in an fashion that doesn't require subject matter expertise. I am particularly happy that Clarke includes global warming (and cyber-security) as a national security issue and that it be treated with the same urgency as issues like terrorism. In terms of threats to the homeland, global warming is probably the worst of all.None of these issues will be easy to fix and fixing any will be made all the more difficult by the change in the people doing the work. The ideal of government service has certainly faded in this country. Kai Bird, in his masterful the Color of Truth (which, if you can't guess, is gray,) describes the noblesse oblige that led the privileged like the Bundy brothers to seek government service. This is gone, but the government hasn't helped the cause either. On the one hand it continues to outsource key jobs, which may save a bit of money but also fails to develop long term leaders for the government. Then it makes the hiring practices overly long, complicated and demanding and provides pay scales that often require great sacrifice of those who might serve.In the book, Clarke lays out a number of policy prescriptions to fix the problems he addresses. The most critical one has to be the human resources question. If the government doesn't have the right people to do the work, all the other fixes will come to naught. It is here that Clarke provides the hope that his list of changes might actually be achievable. When the government has the right people in place, it can work wonders.

Must reading for those wanting insights into what lead up to 9-11, how 9-11 has been used for harm as well as somewhat for good purposes, how complicated the business/industrial/government complexes are in the 21st Century. Clarke's writing is clear, moves quickly with great detail, and is well measured. He states that not only has our country failed us but that he also failed us in not getting the influence and power to keep the Bush administration from basing foreign and war policies on lies and incompetence. I read his first book just after 9-11--as audiobook--and it confirmed my fears and created fears I didn't know I should have had. I have a vivid body/mind image of listening to the tapes while walking from a hotel, over a highway, and on to a store where I could get a recharger for my phone, now remembering where I was when I was listening to his accounting of the attack on the Cole, the weirdness of the Cole's putting into that port, the sailors' waving to the small boat just before that boat blew up the Cole, killing a number of Navy personnel.

As much as Clarke likes to toot his own horn, I can easily overlook that when thinking about some of his ideas and that there aren't very many as qualified experience wise as he is, to actually understand the subjects he writes about. It's complicated and he's been in the drivers seat when it comes to Washington insiders and Pentagon highups for a long time. Cheers for having the guts to take on some hard issues facing this country.

This book takes an uncompromising look at the inability of the government to prevent security and intelligence failures, like those that occurred before 9/11.Prior to the invasion of Iraq, the US Army had no counter-insurgency strategy. Part of the reason was to not resurrect unpleasant memories from Vietnam, and part of the reason was the absolute belief among top officials of the Bush Administration that it would not be needed, that the US troops would be greeted as liberators. It wasn't until four years into the war that General Petraeus was asked to put together a counter-insurgency strategy.In Iraq, there is a nearly equal number of US troops and civilian contractors. There is a similar ratio between government and private intelligence analysts here in America. The author thinks that should change, now. Analysis should be brought back under government control. Analysts also have no access to public sources of information. Some public bit of information may be all that is needed to, for instance, turn a satellite photo into a photo of secret missile bases.The author also feels that the percentage of ambassadorships and high-level defense and security jobs available to big political contributors and former elected officials should be reduced by a lot; those jobs belong to the professionals. Other countries are better than America at getting human spies on the "inside." That part of the US intelligence business should be downsized, and America should focus on the technical part of intelligence gathering. But, America needs to resist the temptation to launch more and more sophisticated satellites into orbit, when a simpler satellite will do the job.Clarke feels that the next major battleground will be in cyberspace. The current staff of the Office of Management and Budget working on federal IT security is 2 people. That should be increased to more like 200 people, and they should get the clout to force agencies to take proper security precautions.Clarke has spent many years in high government positions, so he knows what he is talking about. Here is a fascinating, and eye-opening, book that will help to explain large parts of recent US foreign policy.

Mr. Clark makes many valid points identifying failures by the federal government. In fact, I might say he makes a powerful argument for why the federal government shouldn't be in charge of much of anything. And may they really probably shouldn't be trusted with managing/controlling 25% of the US economy, healthcare. But that's another debate.Mr. Clark traces back to the roots of several calamities made worse by our "leaders" in the executive and legislative branches of our Federal government. Iraq didn't actually have WMD in 2003 when we invaded. Our armed forces are specifically designed to fight other armed forces, not insurgencies, like those present in Afghanistan and Iraq, but we sent them anyway. Hackers are bad and IT company CEOs don't know jack about hacking, and the government doesn't have much of a plan. 9/11 was all George Bush's fault, even though Bill Clinton had him in our sights but let him escape because he it would look like he was trying to get us to ignore how busy he was declaring that he "did not have sex with that woman. . . Miss Lewinsky." The failure at all levels of government (local, state and federal) to properly respond to Hurricane Katrina was all George Bush's fault.Unfortunately, Mr. Clark plays the victim card at several points, making comments like "I couldn't believe people could think that" or "I told them that was a bad idea but they would not listen." How did someone who was always right never heard by his superiors. How did someone survive the very political environment of working in government while constantly telling everyone else they were wrong. I believe him when he says our government failed, but he never accepts much responsibility for having been part of that government for more than 30 years, when the seeds of many of these failures were planted right under his nose.

The last thing I expected to find in this book was repeated exonerations of Cheney. Yet there they are. In this and many other ways, this was not the book I expected to read (and dislike.) Perhaps my confusion was due to the title. If the publisher had fired "Your Government Failed You", eliminated the position of Subtitle, and promoted "Breaking the Cycle of National Security Disasters" to the office of Title, the result would have been briefer, more clear, and almost as snappy. Of course, one could say something very similar about my preceding sentence or the organizational chart of national security agencies.

Ego aside, he clearly knows what he's talking about. While I'm not so sure more oversight committees could have prevented malfeasance by Cheney and his ilk, this is still chocked full of great analysis and recommendations. His passion and belief that government has a constructive and honorable role is refreshing in this day of bashing government to climb in the polls. Almost made me want to sign up.While the book is probably too broad in its focus -- it lost me at times -- his sections on cyber security and the global security threat of climate change were an unsought and very welcome addition.

Clarke discusses America's national security situation, pre-9/11 and post. He addresses the problem areas (just about everything) and what possible solutions are. This isn't a difficult read (although the acronyms got to be a bit much) and it's enlightening. Basically, our governmnent, bloated with political appointees and overpaid, underqualified civilian contractors, won't take security seriously until there's a few more 9/11s. Then the military, Congress, the President will stop fooling around and implement the necessary security measures.

Clarke is the counter-terrorism expert who resigned in protests from the Bush administration. In his earlier book he talked about how Rice and others simple ignored the proglems. In this book he talks about failures of the intelligence community. I was particularly interested in how he shows the lessons drawn by the military from the war in Vietnam - intended to show that in a future war we would have to reinstitute the draft or else call up the national guard. They thought we would never call the Guard, but that is exactly what happened in Iraq.

An expert analysis on the current state of our national security. Richard Clarke shows how politics and inefficiencies within US intelligence bureaucracies have impeded America's abilities to keep pace with a post 9/11 world. His reputable experience and acumen on issues such global conflicts, cyber warfare, and the US intelligence community not only come with diagnoses, but remedies. Fact-filled and eye-opening. A must read.

It amazes me that a book written almost 10 years ago could be still so timely. Nothing appears to have changed for the better since Bush 43 took office. Bipartisanship seems to be a lost art. The greed is still rampant, the cronyism is worse then ever and the good people seem to be forced out in bigger numbers. This is not a book about politics but a serious expose of what needs to be fixed. Please read!! I hope we have another Kennedy type of person to get things moving.

Not sure I'd recommend the audio version this book - author reads well, but much of the material is fairly dry, along the lines of a public policy textbook (although the points/suggestions themselves are spot on!); the print version would work better for those tempted to skim, as I was during the first half, dealing with post-Vietnam military policy.

"I first became aware of the author when he was the top cybersecurity official in Washington DC. A career public servant in the intel community, his honest post 9-11 indictments of the intelligence community made it easy to trust him. Unfortunately, when reading about the bumbles and foibles of politicians and insular intelligence officials, you won't think any more positively about the future."

I liked getting a viewpoint from somebody who was in the trenches. I found the book a little dry and academic, but it was a fascinating look into how the current military and foreign policy positions our government practices were developed in the wake of the Vietnam War, and how they affected the Iraq and Afghanistan deployments.

Yes, I'm a Richard Clarke fan even though he can sound preachy at times. I found Against All Enemies was quite preachy, but in this work Clarke is much less so. He offers so many really sound, well thought out strategies (policy, social, economic, infrastructure) to fix our national security and revamp our image in the Arab world. I hope someone in the new administration reviews this work.

Richard Clarke is a big time bureaucrat who has a few good ideas about improving U.S. national security. He spends too much time disagreeing with the frivolous detail of Bush 43s national security implementation (e.g. jumbo trons at the NCTC) and too little on substance.

Read by ACRL Member of the Week Peter Hernon. Learn more about Peter on the ACRL Insider blog.

You can't trust your government. If you think you are middle class, you are probably poor or you will soon be poor. Your country is going to hell.

Highly credible push back from former National Security Chief Clarke on the root causes of the massive American intelligence failure precipitating 911.

I like Clarke's books, I think it's interesting to see an insider's perspective on the situation. Given how things went, it's illuminating to say the least.

Clarke continues to be one of the best commentators and analysts on the actions of the U.S. government related to security.

Much more of a textbook or extended white paper than Against All Enemies. I would recommend Against All Enemies instead of this unless you are very interested in national security/current affairs.