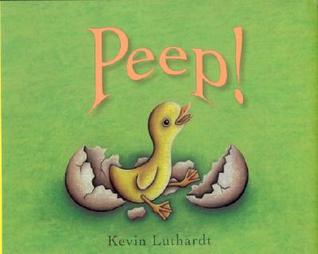 Peep! A baby duck breaks through its shell and immediately attaches itself to the first thing it sees -- a warmhearted young boy. The duck follows the boy home and soon the two are inseparable.But the baby duck is growing up. One day. . .Quack! When a flock of ducks flies by the boy realizes with a great pang of sorrow that his friend will have to rerum to live among its oPeep! A baby duck breaks through its shell and immediately attaches itself to the first thing it sees -- a warmhearted young boy. The duck follows the boy home and soon the two are inseparable.But the baby duck is growing up. One day. . .Quack! When a flock of ducks flies by the boy realizes with a great pang of sorrow that his friend will have to rerum to live among its own kind.Author-illustrator Kevin Luthardt relies on his highly expressive, comical full-color illustrations and only a few well-placed words to poignantly and humorously dramatize this special tale of friendship and demonstrate the importance of learning to let go of something you love. The result is a deceptively simple story that deftly conveys complicated feelings and situations. The story's surprising, uplifting conclusion will reassure and amuse young children....
| | | |
| --- | --- | --- |
| Title | : | Peep! |
| Author | : | |
| Rating | : | |
| ISBN | : | 9781561450466 |
| Format Type | : | Hardcover |
| Number of Pages | : | 36 Pages |
| Status | : | Available For Download |
| Last checked | : | 21 Minutes ago! |
---
Peep! Reviews
This book has the word 'peep' 32 times, and the word 'quack' 44 times. And that's pretty much it.This book is now hidden away, since I think I'll lose it if I ever have to read out loud again. Extra star for the illustrations, though.

Peep! by Kevin Luthardt is the tale of a duckling who mistakens a boy for his mother. Luthardt's expressive illustrations tell the bulk of this story. My favorite images are kicking can, hatching, brought home, soccer, Quack, It's time, bye, and last three pictures.Using less than ten words, though peep and quack are repeated often, Luthardt tells a story strong on sequence, emotions, and inference, using humor and sensitivity. The happy ending twist will please many. For ages 3 to 7, animals, friendship, independent-reading, infering, comprehension, read-aloud, emotions, onomatopoeia, and fans of Kevin Luthardt.

Fun, expressive illustrations tell this story of a young boy who adopts a lost duckling, only to have to release it into the wild eventually. The joys and sorrows of loving something you have to set free are told with sensitivity and humor--and there is a surprise happy ending!

I loved this book and I loved it better because it had NO WORDS in it besides the words "peep" and "quack". Yes, I had to use this book in helping to teach my class on how to tell a story from a WORDLESS book but it woke up my imaginative juices. I hadn't used my imaginative powers since I was 4 or 5 years old when I had an imaginary friend (I sadly confess). But what I loved it about it, aside from the comical illustrations, is that each picture could another YOU want it to say. I knew it was a book about a baby duck being attached to this young boy and the young boy being attached to this baby duck until the young boy brings him to a place where he belongs but the dialogue, I made up, the names in the book I made up. I even asked the class I was reading the book to, to help me give the duck a name, and they named him "Fred". Even though the author orchestrated this book to tell a story, he gave me, parents and young children learning to read, the liberty to create our own dialogue and version of how we think the story should be told. If you come across a wordless book with that mindset, there will always be a "story" or "words" to read from off each page of the book.CREATIVE EXPERIENCE:I would love to hear a child tell a story from just pictures. I thought about just printing 4 -6 pictures from this book, and give each child a picture. I would go around to each child to tell me what they think is going on in the picture and with their responses, create a story to re-tell to them about those pictures. A mini-story within a story.

This book talks about a little boy who found a baby duckling in the street, and he decided to care of the duckling. However, the duckling being to grow, and he want to live with the other ducks in the pond. Therefore, at the end, the little boy decided to free duck. Nevertheless, the little boy ended up finding a new friend. This book is amazing. I believe many children can become identify with the main character because they want to have a pet too. This book doesn't have many words; however, the illustrations can help the readers to understand the book. I really recommend this book for children from preschool up to second grade.

What a GREAT picture book!! The only words in this fascinating book are "PeeP" and "Quack". You don't need words to figure out what is happening on each page. This book would be great for teaching predicting and sequencing. I would pick one student for each page and ask them "what do you think is happening on this page?" and "what do you think will happen next". This book also deals with the emotions and teachers can easily ask student to draw about how the little boy felt when the "peeps" turned into "quacks".

I think that this book is such a cute little book for children. It is a great picture book where you can imagine what you would think the book would say. It is a good book for children to try to learn how to read expressions and body language.Activity Extension: Have a class discussion with the children about times when they felt alone and sad and then when they felt happy. Out of paper plates, make sad, mad and happy faces for each child. At group time everyday, the children can hold up how they are feeling that day, and let them talk about it if they would like.

The illustrations were sweet in this sparsely-worded book. I appreciated that the little boy took such good care of the lost duckling. What bothered me was that neither the text nor the pictures make clear if this is supposed to be a wild or domestic duck (he doesn't have the coloring of a wild duck). When the duck grows up, the family releases him into the wild. While this would be the proper thing to do with a wild duck, it is terrible for a domestic one.I wish the book would have made this more clear.

Not a big fan of books with no words, however there are inspiring words like Peep, Quack, Mew get really old really fast. In fact I was reading this out loud and a patron (a grandma) said "Is this book for an 18 month year old." I couldn't respond. I don't know. I don't love wordless books. So if you want to fill in the blacks the pictures depict a boy who finds an egg...the egg hatches, the duck follows the boy around like a lost puppy dog, and then it is time to let him go live in the pond...and then he finds a new friend.... (spoiler it is a cat)

When a young boy witnesses a baby duck hatch from its egg...it says 'PEEP'. The baby duck continues to follow him everywhere until his parents decide its time to let the baby duck join the duck pond. The boy is sad until another creature starts to follow him home. Mew, Mew! can you guess what it is?A nearly workless picture book with cute, colorful illustrations. Used for "Feathered Friends" storytime-October, 2009.

This picture book illustrates a heartwarming story about a baby duck that pops out of its shell and attaches itself to the first thing it sees- a little boy. The two become very attached and best of friends. This book can be used for inferring. The students can come up one by one and tell the class what they notice is happening in the book and why they think that.

this book has great illustrations and a fabulous story line. All the words are spoken by animals and there are only a few words throughout the book but it is a powerful story. This book emphasizes shape and strong colors and would be good for preschool thru second grade. This book deals with sharing so it would be a great use to any classroom!

The illustrations are very cute. A boy is followed home by a peeping duckling. The only words in the story are "peep", "quack" and "It's time" when the duckling should go back to the flock of ducks. So much is said with no explanation!

This book could be read by Pre-K and Kindergarten students as well as ELLs. Because of text in this book, it would be good for teaching inferring. Although there isn't many words, the picturs are colorful.

Near-wordless. Pictures tell the story.Infer: ending, and parent's comment that "it's time." As well as many other nice little places to infer.

Great book to teach inferring. Limited text. Many pictures.

Peep! Peep! Wonderful use of onomatopoeia throughout the book. Beautiful illustrations to engage a young reader. Children LOVE acting out this book while you're reading it!

This is a cute story about a boy who finds a baby duck that follows him around until he is old enough to join other ducks and fly away. Great book to use when teaching inferring.

I like it for making up your own story. Danielle used Iggy the INferring Iguana to help us with inferring in this book- great idea for kids!

This is great bookt read to elementary students about inferring.

This book is great for students to learn about inferring.

Great Book to use when introducing inferring. The book only uses the words peep and quack. The students have to pay close attention to the illstruations and details.

Really cute book:) Use for infering!

A lil chick becomes friends with a boy and stays with him, but when he sees others like him he knows he has to go. Suitable for pre-k thru 1st.

Great book when teaching inferring! Can be used for picture walks! Great for students who aren't able to read text just yet!

This was a cute book that my daughter and I read together. She liked the repetition of the little chick and the illustrations. fun book that I found quite enjoyable.

Great book for ESL learners. About a boy and a little duckling who follows him everywhere. Then the duckling grows up and is ready to go. Also good to use for inferring.