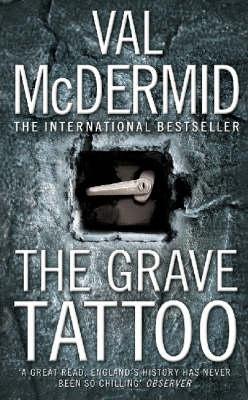 It's a time-honoured tradition that the best crime writers begin to chafe at the constraints of their area of the genre and feel a need to stretch their literary muscles. With The Grave Tattoo, the estimable Val McDermid demonstrates that she, too, has felt the need of a change from her contemporary novels of crime and detection, and here takes on a truly ambitious panopl It's a time-honoured tradition that the best crime writers begin to chafe at the constraints of their area of the genre and feel a need to stretch their literary muscles. With The Grave Tattoo, the estimable Val McDermid demonstrates that she, too, has felt the need of a change from her contemporary novels of crime and detection, and here takes on a truly ambitious panoply. Not that McDermid has been afraid to tackle unconventional subjects before--it's just that the scale of this novel is even more impressive. A corpse is discovered on a hill in the Lake District, adorned with bizarre tattoos. Wordsworth expert Jane Gresham finds herself distracted from her studies of the great Lakeland poet when another mystery surfaces, involving the Pitcairn Massacre and the events of the mutiny on the Bounty. Is it possible that Fletcher Christian, who led the rebellion against Captain Bligh, faked his own death and clandestinely returned to England? Jane makes a connection between the tattooed body and the tattoos on sailors who served in the South Seas--is this the body of Fletcher Christian? And Jane has another problem on her hands--a young girl who she has tried to help finds herself a murder suspect, and tracks her down to the Lakes. And as Jane closes in on a Wordsworth manuscript that may be a direct transcription of Fletcher Christian's confession, she finds herself with someone else on her trail--an ex-lover with similar designs on the precious document.As all this might suggest, McDermid has set herself a truly daunting task here, with a canvas so crammed with incident, colour and character. And when the reader learns that the central narrative is counterpointed with sections from the Fletcher Christian document, it's clear that we are a long way away from the medical and criminological puzzles of Wire in the Blood. It is to McDermid's credit that she draws so many strands together with such assurance. --Barry Forshaw...
| | | |
| --- | --- | --- |
| Title | : | The Grave Tattoo |
| Author | : | |
| Rating | : | |
| ISBN | : | 9780007142873 |
| Format Type | : | Unknown Binding |
| Number of Pages | : | 289 Pages |
| Status | : | Available For Download |
| Last checked | : | 21 Minutes ago! |
---
The Grave Tattoo Reviews
'Goodbye, Dr Gresham. I don't expect we'll meet again,' he said. He sounded so much like a Bond villain that the spell broke. Jane grinned. 'You never know,' she said.Apparently, I'm on a Val McDermid mission at the moment. So, when I found out (by a quick word search on kindle) that The Grave Tattoo did not have as many ties to graves/graveyards as I would have liked to satisfy a certain bingo square, there was no reason to hold back any longer on this murder mystery combining The Mutiny on the Bounty, William Wordsworth, and an East End of London kingpin. I'm not sure which part of the book I liked best but rather enjoyed the back and forth between Fletcher Christian's (fictional) memoirs and Jane, a struggling academic who balances waitressing with academia, investigation into whether Wordsworth did write an unpublished account of the Mutiny on the Bounty. I also enjoyed the relationship between Jane and her neighbour, a vulnerable 13-year-old, who gets thrown into the midst of murder and a police hunt. This was quite different from McDermid's usual setup as the leading characters we're not part of or related to the police force. Unlike the Pirie or Jordan/Hill series, this was not a police procedural. There was some part that included a forensic investigation, but this was in connection with the mystery of a body found in a peat bog, not in connection with any of the crimes.The Grave Tattoo probably explains why I prefer McDermid's standalones to the series: there is no formula to follow. It's a bit of a restriction of the series that they strive to contain a factual basis of not plot but procedure in order to sustain the series. In The Grave Tattoo, there seemed more flexibility of offering a more outlandish plot, and it worked.

We're in England's Lake District now and reading a bit of light fiction set in the region. It does make a difference when you know what the scenery and villages actually look like - sharpens the imagery, I think.I'm not a regular reader of McDermid, but know that she's recognized as a skillful mystery writer. Here she has bitten off some pretty big chunks - missing Wordsworth letters and possibly a poem that might tell the story of mutineer Fletcher Christian who came from the same part of the world and was connected to Wordsworth; the discovery of a body in a bog who may or may not be Fletcher Christian; three (or is it 4?) parties racing to find papers and identities, some mostly honorable, some less so, some distinctly nasty. And then there's a complex set of relationships between characters, so complex I'm not even going to try to cover it here, but I did enjoy the presence of the thirteen year old feisty girl, Tenille.It's a long book, and I confess I skipped bits in the middle. I was surprised by the ending - perhaps I would have picked up a clue or two if I'd paid more attention in the middle. One of the central mysteries remains a mystery, and the final chapter was a bit of a fizzer.

This is probably the weakest Val McDermid book that I've read, save for her more deliberately pulpy novels about plucky journalists and private investigators flouting the law to get results (heck, I'd probably read Kate Brannigan again in a second). Admittedly I can't work up the amount of apathy for this as I did for Beneath The Bleeding, the book where she thought her team of serial killer investigators should horn in on a terrorism investigation - a knee jerk reaction to the 7/7 bombings.Still, it's not a very good book. 2 is a bit harsh, but by McDermid's standards it certainly doesn't warrant any higher.What McDermid has produced here, you have to understand, is a dull book. Possibly not dull to everyone's expectations, but to the layperson who doesn't care about Wordsworth or The Mutiny on the Bounty it likely is. McDermid has a not particularly interesting or well incorporated series of plotlines about an undiscovered manuscript, a stalking, an attempted murder, and a fugitive running from a crime she only half committed. They're related but they're tough to care about. Each chapter is bookended by an excerpt from Wordsworth's missing work and there's nothing about it to suggest why the man was a great poet or prose artist.Characterisation is weak, with McDermid giving the hint of interpersonal relationships without going to too much effort to write them. Characters' movements and actions are poorly explained: no adequate reason is given for the fact that Jane is quickly accompanied on her sojourn by the colleague who is supposed to be filling in for her at the university, nor are we allowed to understand why her brother is such a jerk. The less said about the incredibly disparate but most action packed runaway girl segments, the better. Where McDermid falls down hardest is when she realises that she has to raise stakes. She does so by inducing a series of serial killings so contrived that you have to wonder why she even tried. The twist killer is also vastly disappointing, and his motivation is so weak as to be laughable. Of course, McDermid takes the easy way out and ultimately leaves us with an unmemorable story peopled by samey characters. She is a good author, but she can do and has done so much better than this.

In September 2005, heavy rain is sweeping Britain and in the Lake District a body is revealed as the land moves on the ancient peat hags. This body in the bog is of great interest to Jane Gresham, a scholar of the local Lakeland poet, William Wordsworth. This novel reveals the mystery of what has been hidden for 200 years.This novel is a lovely mix of things brought together to make a remarkable book. There is history, local folklore, poetry, mystery, police procedure and social commentary. What makes this book so nice is that you get the full story. It is not a storyline with a few details fleshing it out because every scene is built upon with attitude that makes you feel as though you are living the story. Everyday life with it's modern day character is tightly woven into this novel, making it so real.Val's writing quality is very high and she uses a very extensive vocabulary. This is an intelligent read and this novel has a lot of depth. You feel that you are getting the full works from an author at the top of her field. You know that this is as good as it gets.The Grave Tattoo won the 2006 Portico Prize for fiction and I can see why. This is a great book that was a joy to read and I shall vote it the top score of 5 stars. The Grave Tattoo was written in 2006 and has 543 pages in the paperback edition.

If I were cynical (Cynical? Moi?) I might be tempted to say that The Grave Tattoo was Val McDermid writing a pastiche of Reginald Hill parodying The Da Vinci Code. But that wouldn't be entirely fair. It's true that it's set in Hill's beloved Lake District, like his The Stranger House published a year or so earlier. It's also true that the plot revolves around an academic's search to uncover the secret of a historical conspiracy held in trust by a hapless Lakeland family before she is beaten to it with messy consequences. However, there's a lot more to it than that.The McGuffin in this case is a putative lost epic poem by William Wordsworth, based on the story of Fletcher Christian (a Maryport lad, who went to school with Willie). The literary chase, which leaves a trail of unexplained dead bodies, is a fascinating one with a satisfying resolution. This kind of story is a new departure for McDermid, but I hope it won't be the last she'll do in this field.

This was my first Val McDermid novel, and it won't be the last - it was a good read. The premise involves a story that I've always liked: Fletcher Christian and the mutiny on the Bounty. Jane Gresham is a postdoc who is an expert on William Wordsworth, and she grew up in the Lake District where Wordsworth lived and wrote. She's now living in London and doing research at the University. Back in Cumbria, the extremely heavy summer rains have unearthed the mummified body of a tattooed sailor in a peat bog. Jane is excited to read this in the paper, as she's always believed that Fletcher Christian had returned to England after the mutiny and hopes that the body is his. She manages to get a two-week leave of absence to visit the Wordsworth museum to search for any uncatalogued documents about Christian and Wordsworth (they were friends and related by marriage). She finds a letter from Wordworth's widow to her son, which tells of a document found after the poet's death, and this convinces her that there is unpublished material possessed and hidden by the descendants. What she doesn't realize is that the value of the material could induce collectors to kill for it.

For the love of all the gods of books, authors PLEASE STOP (view spoiler)[destroying the McGuffin at the end of the story. Have the guts to let the world change. It's fiction. You don't have to erase your changes off the chalkboard. (hide spoiler)] And yes, this is a big spoiler. You have been warned.

THE GRAVE TATTOO is a standalone book from the prolific and well-known author of, amongst many others, The Wire In The Blood series.When a tattooed, 200-year-old body is uncovered in the peat bogs of the Lake District, local girl turned Wordsworth Scholar Jane Gresham is instantly reminded of a local legend about Fletcher Christian, the man who led the mutiny on the Bounty, said to have returned surreptitiously to England from Pitcairn Island. Returning to her childhood home she is on the trail of a connection between the Wordsworth and Christian families and is intrigued by the meaning behind a letter which she discovers in the archives from Wordsworth's family home. Back in London, on the council estate where Jane lives, a local teenager that Jane has befriended is dealing with a heap of problems of her own, and despite Jane's attempts to help her before she leaves, Tenille finds herself in big trouble. Despite being only 13, and having never travelled far from the council estate in her life, Tenille sets off to meet up with Jane.The police are looking for Tenille and to add to Jane's problems, her ex-boyfriend, now Historical Document Dealer, is stalking Jane through the Lake District trying to get a lead on the important and valuable documents from Wordsworth that everyone believes exist.The chapters of the book are interspersed with extracts from Christian's secret diary that all appear to be confirming firstly the theories about who the body is, and the existence of documents or memoirs written by Wordsworth about the mutiny. There are friendships and family relationships that drive Jane and her reactions to the people around her. No sooner have Jane and her coterie of supporters devised a theory about where these memoirs could possibly have gone, then elderly people, interviewed by Jane, start dying.THE GRAVE TATTOO is quite a change in direction for McDermid, especially for those used to her more confrontational and frequently gory well-known novels. This is more of a plot combined with character study that doesn't pay particular attention to one component over the other. The characterisations were, in the main, reasonably detailed and solid, although some of the motivations for actions were tenuous. The setting was excellent with a great feeling for the Lake Districts and the landscape. The suspects were fairly introduced to the reader, although they were a few over obvious attempts at portraying sinister actions which just didn't quite seem to work, plus it seemed that some of the supporting character roles were too detailed in some places and too sketchy in others.THE GRAVE TATTOO has a very unexpected setting and environment for a crime fiction book than much of the standard offering these days. In attempting to provide a grand and sweeping theory with a grand and sweeping story it did seem to fall a little flat on occasion.

Genre: Mystery ThrillerHow I read it: I own it.What attracted me to the book: I love reading all Val McDermid books. She's one of my favorite authors.Who should read this book: Mystery lovers, Val McDermid lovers, history lovers, breathers of air. Note of caution: there are some disturbing scenes and some foul language in this book. Almost all Val's books are this way - if you've read any, you'll know what I'm talking about.Summary (from amazon): An intriguing, 200-year-old mystery propels this multilayered stand-alone from British author McDermid set in England's Lake District. Scholar Jane Gresham pursues her theory that HMS Bounty mutineer Fletcher Christian returned secretly from exile to his homeland in the late 18th century. A shriveled body found in a bog seems to bear resemblance to this dashing hero, right down to the South Sea tattoos that blacken his buttocks.Jane searches relentlessly for a lost manuscript by the poet Wordsworth that relates Christian's tale in tantalizing excerpts between chapters. Various subplots complicate her quest, including a fraught friendship with precocious 13-year-old Tenille, a lonely, mixed-race girl who also loves Romantic poetry. With a feminist, socially conscious spin, McDermid (The Distant Echo) vividly contrasts marginal subsistence in London's dismal Marshpool neighborhood with the Lake District's bucolic lifestyle. - Publisher Weekly.My thoughts: In all honesty, I started reading this book three times and couldn't get into it before this last time. I don't know if I wasn't in the right frame of mind the first few times but this time I was determined to finish it and I did.What should this tell you? I'm an IDIOT!Although the book started with the weather (a pet peeve of mine), the weather was vital to the plot. I loved the characters in this stand alone book (book without a sequel) and liked the combo of Tenille and Jane. The plot, which discusses whether a man named Fletcher Christian (responsible for the Mutiny) ever came back to England from Pitcairn and gave his story to Wordsworth was so enthralling.Once the story starts, it doesn't stop and the story starts pretty quickly. I must have always gave up on the novel just pages before it started. I'm a real fan of reading sequels - especially Tony Hill and Carol Jordon - and that's probably why my brain couldn't get into this one.Only one thing I didn't enjoy much in the novel. In between chapters, Val put excerpts of Fletcher's story and I can't say I read them all.If you want to read more about Fletcher Christian and The Mutiny on the Bounty. Click on the links.Bottom Line: I was stupid and waited too long to finish a great novel.

The amount of time it took me to read this book is ridiculous. Aside from the 11 days or so that are listed here, I've tried on-and-off to read this book for several years. In fact, I only read it now because I have a patented "reach onto the second row of a shelf and pull out whatever book you touch" technique for my unread book shelf. And when I pulled this one out I audibly groaned because I didn't look forward to it at all.There are something like 550 pages in this book. On approximately 500 of those pages, there is some reference to Jane Gresham looking for a manuscript. I got that right at the beginning, I didn't need a constant reminder. I'm also not sure that we need all those pages, because a lot of nothing happens for quite some time - I appreciate, from the bibliography at the back, that Val McDermid researched the living jeebus out of her topic (Wordsworth), but she didn't have to use it all.I was bored for about 450 pages. The last 100 or so are good. Things happen. Otherwise, meh, it's just hills and fells and the Lake District. But in word form, which is nowhere near as scenic or picturesque. And, while I think of it, the policeman who deals with the stuff in the Lakes is pretty bloody crap. Even if you stretch the bounds of credibility for artistic licence, he's arresting people on evidence so paper thin you could make a kite out of it. At least I'd like to think the actual police force aren't so woefully stupid.What else? Oh yes, I let out a little whoop when I finished it.

Six months ago, I took this book to a Mexican Resort and tried valiantly to read it. Margaritas and sunshine got in the way. This is not a pool side resort book because it takes a bit of concentration. A cold winter day and a couple of sleepy cats, however, proved the right formula for finishing this book. I felt it striving for the feel and style of Possession--academic scholars, romance, a mystery text. In this respect I think McDermid did a good job. It's the murder mystery that is intertwined which brings the level of this book down. It is far to easy to deduce the murderer and the story line with Tenille is almost unnecessary. In fact, I'll go so far as to say that British writers, with the exception of Zadie Smith, haven't really figured out how to incorporate "gangsta" culture into their fiction--regardless of whether or not "gangsta" culture has incorporated itself into British society.

I don't know how many people know about Fletcher Cristian and the mutiny on the Bounty, but I'm inclined to argue that it's famous enough in England to make Blyth the fifth or sixth most famous naval captain in English history (behind Scott, Cook, Wellington, Shackleton and Nelson).In this book, McDermid introduces a new central character, Jane Gresham. Gresham is a Wordsworth scholar who believes that Fletcher Christian made it back to the UK after the mutiny and told his friend William Wordsworth about Blyth 'liking men.' In response to this, she believes that Wordsworth wrote a poem about Blyth that she wants to be the first to find.When a body she believes to be Christian's turns up in the Lake District, she sets off to investigate the body and prove her theory correct.It's a daft story, but it rattles along at a fair old whack and if you like your thrillers slightly different, you'll probably admit that storyline is as odd as you've read in a while.

One of the best books I have read recently and very well written, I will now have no qualms at reading any of the books by this author.

This is an intriguing British mystery that involves a hundreds of years-old corpse found in a peat bog, a wonderful main character named Jane who is just right, her lovely country family, an adult brother who fights with her every time they meet, broken hearts, a sleazy ex-boyfriend, a conniving con woman, a moody teenage who is lovable in spite of herself, her Mafia-type father, four more murders of innocent people, and an old manuscript that has been missing for more than a hundred years. All of these elements come together to make an excellent story.

From bestselling author Val McDermid comes a modern thriller about an ancient murder set on the high seas…***CONTAINS SPOILERS AND ENDING***After summer rains uncover a corpse bearing tattoos like those of eighteenth-century seafarers, many residents of the English Lake District can't help but wonder whether it's the body of one of the town's most legendary fugitives.Scholar and native Lakelander Jane Gresham feels compelled to finally discover the truth about the myths and buried secrets rooted in her hometown. What she never expected was to find herself at the heart of a 200-year-old mystery that still has the power to put lives on the line. And with each new lead she pursues, death follows hard on her heels….I just copied this review from someone. They are searching for a manuscript of a poem by Wordsworth who lived in the countryside where Jane's family lives on a farm. The manuscript is supposed to be about Christian Fletcher who led the mutiny on the bounty against Captain Bligh. Lot's of old folks get killed in their homes while the bad guy is searching for the poem supposedly written by Wordsworth. The bad guy turns out to be Jane's fellow professor and trusted friend. He was tired of being a teacher in London and wanted to get rich. At the end the Auntie's house burns down and the stupid manuscript is destroyed any way because the dumb ass aunt just kept it in a box or a book or something. Was an OK story.

I don't have the problems with this book that a lot of other reviewers seem to have. I fully bought into the plot-lines and even the Christian Fletcher journal excerpts all the away until the revelation of the murderer. I just didn't see it coming, and not in a good way. What was missing for me was a hint, some foreshadowing of both the potential for this character to commit murder and a motive. It reminds me of the frustration I often feel when reading Agatha Christie, where Miss Marple suddenly reveals to those assembled in the drawing room something significant about a character's background or relationship with the victim that solves the mystery. But it was never even hinted at, and I have not idea how she came up with it. This breaks one of the cardinal rules of mystery writing. The reader should have all the information that the amateur or professional detective has in order to solve the mystery. There has to be a level playing field.The revelation of the murderer in McDermid's book wasn't quite that bad, and ironically I guessed the murderer but for a completely different reason. It's because I write mystery novels and if I were writing this book, that's who I would have made the murderer. But in order for that action to be believable, a clue to the motivation and psychology that could lead to the murders must be presented.

Here's the thing: I read McDermid's A Place of Execution and thought it was an astoundingly brilliant mystery. I then devoured a few more of her non-series novels ... A Distant Echo was pretty good-ish. Anything else I read failed to make much of an impression. So when I saw this one at the library a few days ago, I knew I probably woudn't love it, but I wanted something not-too-weighty to get me through the weekend. Mission accomplished. This tale of murder in the Lake District isn't the tour de force that Execution was, and I could quibble with the thinly drawn characters (Jake and Matthew seem to exist just to create difficulties for the protagonist, in an effort to make her more likeable, since she isn't tremendously likeable on her own) and with the process-of-elimination solution (who has the knowledge, the opportunity, and is willing to cheat on his boyfriend to further his career? Could he possibly be ... the murderer!!!?!!).

Anticipated this one eagerly thanks to its combination of a really skilled suspense writer and a concept linking present to historic past, but found the book neither an absorbing literary mystery a la Lynn Shepherd nor a suspenseful thriller a la McDermid herself. The weak link is protagonist Jane Gresham, whose character seems shaped largely by plot convenience: she has to be an academic for the literary aspect of the story, a native of the Lake District to give her some resources in the locale of that literary element, a concerned resident of a gritty "estate" to help provide present-day thrills and chills, the ex-girlfriend of someone involved in document and autograph sales, and so on. The disparate aspects of her never felt truly connected to me, leaving me unable to lose myself in the character or the plot constructed through her. The voice of the literary documents themselves felt more credible than her story, oddly; ultimately, it felt that the novel would have been more successful as two entirely different books rather than one rather uneasy hybrid.

My first by this mystery author. Once again, BBC Book Club lead me to a new writer. There was an interview with Val on the internet that helped me enjoy the book. She was at a conference in the Lake District and hear a legend that Christian Fletcher had survived Pitcairn Island and returned to his home area, the Lake District. Then there was the fact that he and Wordsworth were in school together. Val wanted to write about that but not an historical novel. She sets the book in modern London and the District and creates a character who is a Wordsworth scholar who returns home after a "bog body" is discovered that is only about 250 years old. Is it Christian? And did Wordsworth work with him to tell his story in one of the authors long narrative poems, knowing that Wordsworth would not be able to publish it (harboring a mutineer)and if so, would this valuable poem still exist with a family member? The mystery alternates with "letters" by Christian and the mystery. So Val did a lot of research on the Bounty Mutiny which are referenced in the back of the book. Well worth reading.

Oxford graduate and erstwhile journalist Val McDermid, grand dame of the British psychological mystery (Peter Guttridge describes her as "Thomas Harris crossed with Agatha Christie") since the publication of Report for Murder two decades ago, has written a clever puzzle of a book that bridges history and mystery and demonstrates the author's range. The Grave Tattoo combines scenery, story, and spot-on characters into one of her most engaging efforts yet. The author's strength has always been her ability to evoke atmosphere, and the Lake District comes alive in all its unsettling beauty. Grave Tattoo is a solid entry for veterans__and a real treat for newcomers, who will enjoy discovering the four books in McDermid's Tony Hill series (start with The Mermaids Singing) and three previous stand-alone novels. This is an excerpt from a review published in Bookmarks magazine.

I want to give this a 4 and think I just may... this is my first Val McDermid mystery, I've read her book on Forensics (loved it) and her modernisation of Northanger Abbey (cute). Here, I liked the story and how it was constructed and found it exciting and interested to the last... I'm happy to report that my guesses for 'who' were all wrong! The one little thing that bothers me, and I saw this in Northanger as well - repeating oneself. In Northanger it was a line about how the Support of the supportive family was all around a character... here I caught it twice... using the same words within a sentence or two of eachother, it's a pet peeve of mine. There was also a description in it that I felt was just lazy. But, if she can entertain me as well as she did here, I can over look this small stuff...

I listened to this on audiobook. It was a decent read. I enjoyed the idea that Wordsworth was tied to the mutiny on the Bounty. It was fun because it gave me an idea of British legends. Like Washington chopping down the cherry tree for Americans. The book was a little long-winded. And sometimes I got impatient. And the end? I found so completely frustrating. (view spoiler)[I was infuriated that we spent the whole book looking for the undiscovered Wordsworth poem, and then it just went up in smoke. Seriously ticked me off. I felt ripped off. (hide spoiler)]

This wasn't a conventional mystery at all for the first 90 percent of the book. It's all about William Wordsworth and the Mutiny on the Bounty. Then, in the last ten percent of the book, the murder victims start dropping like flies, and I had no idea who the murderer was (maybe because it wasn't a very plausible solution). The main character is obsessed with finding a manuscript for the whole book, but then when she finds out where it is, she's too tired to go get it, even thought she knows someone else is looking for it and killing people to get it?

This was my firts venture into McDermid's work, and I have ot say, I was most impressed. The underlying literary themes gave it an added zest, which was most appreciated. I felt the conclusion was rather obvious (strange for me, as this is not my preferred genre)-but this didn't detract from the excitement engendered by the fast paced events! Am not sure I will read the series-there does seem to be rather a lot of them-but this was an excellent introduction to a talented author.

Sounded good really wasn't that great. Read it until the end (do not really know how). Was one of these books that was stilted and did not really go with the flow. Felt rushed in places. The end bit was the best with a twist.

I actually listened to this on audio book, and was so into the story that since the last disc wasn't finished on Friday, and I couldn't wait till my Monday morning commute to finish the story that I took the disk inside and listened to it--a sign of a truly gripping plot!

This was enjoyable most of the way through, but I felt like it got a bit too far-fetched at the end. Not McDermid's best but not bad.

McDermid deftly combines history, forensics, suspense, literature, and danger into another compelling, atmospheric murder mystery.

Well, this one surprised me! I didn't nail the killer until just a few sentences before the reveal. HOWEVER, this is one where I prefer my interpretation and reason for who I thought was the killer over the author's choice.Anyway, it was yet another chase for a possibly lost manuscript, (this time by William Wordsworth) a mysterious centuries-old body,sporting black tattoos, beautiful endangered heroine, various strait/gay relationships (I could have done w/o!) Also included in the cast, a runaway 13-year-old street-wise girl from London and a puppet-master pulling strings from the Isle of Crete! The author manages to pull all this (and more!) together for a plausible and enjoyable tale, which isn't obviously a murder mystery for almost half of the book! (which may account for it being mis-shelved in our library!)

From bestselling author Val McDermid comes a modern thriller about an ancient murder set on the high seas…After summer rains uncover a corpse bearing tattoos like those of eighteenth-century seafarers, many residents of the English Lake District can't help but wonder whether it's the body of one of the town's most legendary fugitives.Scholar and native Lakelander Jane Gresham feels compelled to finally discover the truth about the myths and buried secrets rooted in her hometown. What she never expected was to find herself at the heart of a 200-year-old mystery that still has the power to put lives on the line. And with each new lead she pursues, death follows hard on her heels….Interesting read, it does make you question what history "knows" as the truth. While slow moving at times, it does have an unexpected outcome.